About SAP S/4HANA
SAP S/4HANA is a cloud-based and on-premise enterprise resource planning (ERP) solution. It is suitable for small, midsize and large businesses in industries such as automotive, engineering, construction, mining, research and development, retail, wholesale, public sector and utilities. Primary features include finance performance measurement, supply chain management, purchasing, contract management, lifecycle management, production cost management and accounting. Other features include audit trails, compliance reporting, billing, dispute management, production planning, materials requirements planning (MRP), maintenance management, quality management, product lifecycle management, research and development. It offers integration with SuccessFactors Employee Central, Ariba, SAP Financial Services, SAP Fieldglass and SAP Hybris Cloud for Customer. Support is offered via email and over a phone. Other help options include preferred care, support portal, self-help portal, guided resources, online chat and online case submission. Mobile applications are available for iOS, Android and Windows phones.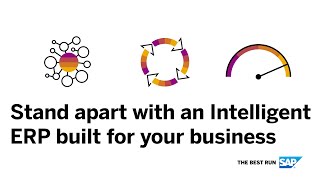 SAP S/4HANA does not have a free version but does offer a free trial.
Starting Price:
Not provided by vendor
Pricing Details:
Not Applicable
Alternatives to SAP S/4HANA
SAP S/4HANA Reviews for UK Users
Ca pankaj A.
Ca pankaj A.
Industry: Automotive
Company size: 51-200 Employees
Used

Daily

for

2+ years

Review Source
---
SAP Hana - complete ERP solution
I used SAP for a very big Engineering giant (turnover 14M+ Euro) and also for a mid scale company (4 M Euro turnover). It is one of the best software If you can control the user training and inputs in the system. The reports generated by system were reasonable and perfect for our auditors. Processes are slightly tricky if you are new to system and it takes some learning curve.
Pros
SAP is one of the best tool if your input data is proper (Garbage in - Garbage Out)
It is very easy to use the software with the help of T Codes.
Reporting is very useful. You cannot delete an entry so it is perfect for audit trails.
For repetitive you can save various layouts and variants to save time.
Cons
1. Implantation of software takes both time and money and is not suitable for early stage companies.
2. User training is another challenge since you need all the users (from Procurement to Finance to management) to learn the system and do their role perfectly
3. Customization is often costly
Industry: Consumer Goods
Company size: 501-1,000 Employees
Used

Daily

for

2+ years

Review Source
---
Robust ERP solution
Overall It is a dynamic ERP solution I used in a big organization with multiple processes. I was delighted to use it as it covers every aspect of processes comprehensively with details reporting outputs to fulfill business needs. However, prior to proceeding, you must be considered about its cost & your scope of business.
Pros
As per organization needs. You could define user role-based access in the system with solid activity Log that helps in Audit. Ease of navigating different options both with mouse clicking & T-Codes. Wide-ranging reports are extremely helpful.
Cons
It is quite an expensive ERP Solution that requires extensive prior training to go live. It also prevents to capture all countries Taxes, Duties due to its certain restriction. You also have to be very particular about its customization else it could be cumbersome.
Industry: Food & Beverages
Company size: 5,001-10,000 Employees
Used

Daily

for

2+ years

Review Source
---
Difficult and time consuming
Good if you're willing to put in an extraordinary amount of effort to get it up and running
Pros
SAP will give you whatever information you want. However you want to look at your goods movements, storage, consumption, inventory adjustments, you name it, if you want to look at it, you can with SAP
Cons
It has a cumbersome GUI, it's not at all user-friendly, it's not intuitive, it's difficult and expensive to implement
Industry: Logistics & Supply Chain
Company size: 51-200 Employees
Used

Daily

for

2+ years

Review Source
---
Satisfied user review of SAP S/4HANA
Wonderful experience. SAP S/4 HANA offers 360 degrees visibility into logistics management.
Pros
Order fulfilment module (HF Delivery Note and Order fulfilment) enables real time tracking of all orders that have been issued and their respective dates of delivery. The feature of the relationship map is also incredible while doing stock reconciliation.
Cons
Overall its my preferred/ best choice of ERP system however at times the system takes long to start while loading add-ons. I guess this shouldn't be a big issue depending on what add-ons have been chosen by the end user.
Industry: Accounting
Company size: 11-50 Employees
Used

Daily

for

1+ year

Review Source
---
SAP S/4 - Brilliant ERP
My experience was terrific since I used this for a very big organization where users knew how to operate SAP and what is expected out of their role. If you are a big organization with multi location or multiple processes then this one is for you. But we careful of taking the cost and training requirement before proceeding.
Pros
The best feature you cannot delete the entries once made in the system and hence it has a perfect audit log. Also over the period SAP has evolved and is taking care of flow between different modules Purchase, Sales, FA, FI & CO. You can generate various different reports with a simple T Code. You can also restrict which users can have access to which data or transaction as per your organizational needs.
Cons
I think the most complex part is customization, you really need to be very sure of what you want. Also at times you need to have skilled staff for certain critical processes as the system is works on Garbage in Garbage Out concept.