About Cedreo
Cedreo is a 3D home design software for home builders, contractors, remodelers, real estate developers, and interior designers. With more than 7,000 customizable furnishings and materials, it allows users to create a complete conceptual design presentation in just 2 hours including 2D and 3D floor plans and interior and exterior photorealistic 3D renderings. Equipped with many time-saving features and a comprehensive online knowledge base, Cedreo is fast, intuitive and easy-to-use. With Cedreo, businesses can streamline the sales process, reduce the cost of the pre-sale phase and improve the client's buying experience. Users can start their designs from scratch or re-use and customize previous projects. Homebuilders can create stunning photorealistic 3D renderings to help clients envision the project before it is built, facilitate communication, and sell faster.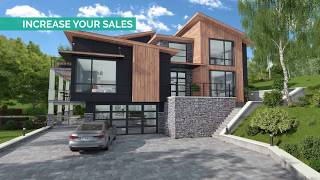 Cedreo has a free version. Cedreo paid version starts at US$79.00/month.
Cedreo Reviews for UK Users
Industry: Real Estate
Company size: 2-10 Employees
Used

Weekly

for

6-12 months

Review Source
---
Useful for Real Estate Marketing
Cedreo has been amazing customer service wise. Whether or not is was a support issue, adding additional artwork, or just general account questions they are always responsive and timely. They really make sure you are apart of the team and that your feedback is heard. Their instructional videos are very helpful when it comes to learning the programming as well.
Pros
This software takes a lot of the guess work out of the actual rendering and creation of the basics. The prebuilt textures, furnishings, and landscaping are a huge time saver. You can add in floor plans for easy scaling and drawing from the architectural plans. The renders come out extremely detailed and the camera is easy to navigate to supply multiple viewpoints.
Cons
Some things are very European in look and terminology, but I know they are actively working to update that. I think functionality can be a bit clunky at times but overall it is user friendly. Our biggest complaint from builders and as users is that the roofs are hard to navigate at times. We wish they were easier to customize and not as glitchy, but customer service has always helped when we could not figure it out.
Industry: Architecture & Planning
Company size: Self Employed
Used

Weekly

for

1-5 months

Review Source
---
Outstanding Residential Design Concept Presentation Tool
The team I have worked with at Cedreo have all been outstanding. The product has met my expectations and I am encouraged about further improvements to come.
Pros
The product to quickly learn sufficiently to begin to produce design concepts. It produces strong renderings in 3D easy for a client to capture the essence of the design being proposed, so as to provide meaningful comment for further design development. The emphasis is on the providing practical and effective tools for the conceptual design stage, not on producing contract documents, or drawings to submit for approvals.
Cons
No software is perfect, and there are advanced functionality that will need to be developed over time, but the customer support is strong and there seems to be strong receptivity to suggestions for new capabilities. The main limitation for the US market is the Cedreo's French origin in France and product images more typically used there, but this is a limitation, and strengthening the ability to produce more complete plan and elevation drawings are both areas in which Cedero is rapidly making improvements.
Response from

Cedreo

Hello James, thank you for your comment. We keep on improving Cedreo month after month. We've just launched a new version with multiple new features and loads of new 3D objects for the US users. Hope they are useful for you.

Replied 14/10/2020
Industry: Real Estate
Company size: Self Employed
Used

Weekly

for

1-5 months

Review Source
---
Great middle of the road software!
The customer service is great. It has helped me a lot to do general block rendering of things and get an idea of space. However, for detailed drawings I still have to go to other software or hire out the final drawings from someone else as these are not detailed enough.
Pros
I have really liked this software for the ease of use. It also is quick to be able to redraw something you already have.
Cons
The price is a pretty high monthly subscription. The choices of products are very limited and everything comes in odd dimensions. Also the HD feature is not great. It does not look very realistic.
Industry: Higher Education
Company size: 201-500 Employees
Used

Weekly

for

Free Trial

Review Source
---
CEDREO UNA MANERA INTERACTIVA Y DIFERENTE DE VER EL MODELAMIENTO DE CASAS
Soy parte de una universidad por lo que he tratado de buscar soluciones y softwares para todo tipo de utilidades, no obstante queda decir que ha sido muy interesante la funcionalidad de diseño de interiores que brinda Cedreo
Pros
Es interesante observar la calidad de renderizado que ofrece, la probe en una Asus i7 de septima generacion y una targeta gráfica de 3gb, no me dio ningun problema de sobrecalentamiento considerando que utilice la calidad más alta de renderizado. Me encanto la parte de diseño de interiores puesto que, en el software de otros proveedores no permite utilizar las diferentes decoraciones que se puede tener en una casa.
Cons
Un apartado que no me gusto mucho fue el precio, aunque adquirí la version gratuita del programa, tenía algunas limitaciones pero nada del otro mundo. El proceso para ingresar y probar la version gratuita se me hizo super extenso, puesto que al vivir en un país de Sudamerica tarda en llegar el mensaje de confirmación.
No se que tal sea el rendimiento en computadoras menos potente aunque por el tipo de software y la utilidad que va a realizar obligatoriamente se necesita un equipo equipado.
Industry: Construction
Company size: 2-10 Employees
Used

Weekly

for

1+ year

Review Source
---
Great software at a great price.
The greatest benefit has been to allow our clients to visualize their projects.
Pros
This software is easy to use and offers me the ability to let customers see their finished product before it is built. Many customers have a hard time visualizing typical construction plans. The 3D view let our customers get a true feeling of the finished product they will be getting. There are many customizable furniture and household items to give the 3D views a very professional outcome.
Cons
The product is easy to use and many of the windows and doors are customizable. The one thing that is missing from door styles are basic exterior sliding glass doors, but I have always managed with a substitute.
Drawing the roofs is sometimes a little tricky but I have successfully learned how to do them after a little trial and error.