About WooPOS
WooPOS is a Windows-based and Hybrid solution that helps small to midsize businesses in the retail industry manage inventory and streamline point-of-sale operations. The centralized platform enables users to record clients' contact information in an in-built database, monitor transaction history and gain insights into buying trends using predictive analytics. Key features of WooPOS include Point of Sale, Inventory management, data import/export, payment processing, general ledger, barcoding, invoicing, alerts/notifications and purchase order management. It allows managers to track sales commissions, configure role-based access control, monitor employee check-in/out using timeclocks and generate reports to streamline payroll processes. Additionally, the solution offers mobile applications for Android devices, enabling enterprises to count stock levels even from remote locations. WooPOS facilitates integration with various third-party applications such as WooCommerce, Shopify, and more. Pricing is available on monthly subscriptions and support is extended via phone, email and other online measures. All-In-One Package Our system does it all. Manage inventory, customers, employees, and point-of-sale systems across multiple storefronts. You'll have accurate analytics and over 500 reports to help you improve your business. Inventory Management Easily track inventory and process transactions across multiple storefronts without frustration. WooPOS is loaded with powerful features and can be customized to fit the unique needs of your store and its products. Reliable & Secure Uptime Never deal with random server shutdowns again. WooPOS provides extremely high reliability and uptime because it runs directly off of your own computer. All WooPOS data is also backed up on our cloud. Fully Loaded Support WooPOS comes with responsive support and clear documentation to ensure the platform is providing value without getting your way. Need help? We respond to all customer support issues within a couple of hours!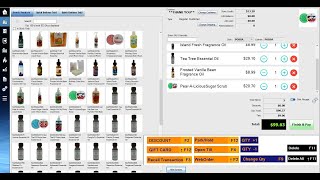 WooPOS does not have a free version but does offer a free trial. WooPOS paid version starts at US$99.00/month.
Starting Price:
US$99.00/month
WooPOS Reviews for UK Users
Used

Daily

for

2+ years

Review Source
---
One of the most customizable ecommerce addon
Pros
What makes Woocommerce greatis the fact that it is higly cutomizable. WIth your every need it can exceed your expectations by far.
Built for speed and custom it is another great tool to work with as a designer.
The easy to install and manage make it for users ideal for small and large shops.
You can manage a multi store from the same dashboard and start making some severe changes.
It integrates perfectly with other plugins and apis
Cons
The export data function should be tailored for less fields or make it more compact, it is great for export import in the same ecommerce platform but a nighmare just to upload it to something else.
Industry: Retail
Company size: 2-10 Employees
Used

Daily

for

1-5 months

Review Source
---
Handles large Database
The software is easy to use and lots of support documentation...the learning curve is more about adjusting to a different process compared to what we used before. Overall the change to WooPOS has been positive and staff seem to like the new system better.
Working with their head programmer has been beneficial in understanding and adapting to a new system.
Pros
Our database has over 500,000 items in it and product searches and reports are faster than my previous system. We mainly use it as an inventory management system for our website and store...website is updated instantaneously. Easy to update database with excel data loads. Easy to customize invoice, labels and layout of screens. Fairly user friendly with pop ups/tips when a function or command is skipped or missing.
Cons
Would be better if some of the inventory reports could be user defined/generated more easily than having to build (and understand how) a custom SQL query. Would like to see more/better basic accounting functionality as it is not an accounting program...it can export some ledger information to Quickbooks and others...but would like more.
Industry: Fund-Raising
Company size: 2-10 Employees
Used

Daily

for

2+ years

Review Source
---
Support is Excellent and accurate
We had support software upgrades and caused a failure with some features of the Gift Card plugin. We reached out to support and got an immediate response with suggestions to fix. We needed more support and [SENSITIVE CONTENT] in WooPOS support was able to quickly solve all our issues. We are very happy.
Pros
Ease of use, and ability to upload Gift Card in batch. Tracking is excellent and feature to control the card and use of card by customers.
Cons
This plugin is perfect for our industry and is the only Gift Card plugin with the ability to set the card as a 'one time use only'. Out of 10 or more we test it is the best, easy to use and can customize. We control 100's of card per month with little effort.
Industry: Online Media
Company size: 2-10 Employees
Used

Daily

for

Free Trial

Review Source
---
Amazing soft but needs a lot of changes
See above
Pros
A lot of usefull functionnalities.
One of the rare professional Pos easily linked with woocommece.
Cons
Hard to configure
Hard to customize frontend pos
Hard to customize functionalities
Not user friendly
Please add a custom product for when the cashier scans an unavailable product they can add a custom product with price and name.
Add a function to customize front end pos to simplify the visual complexity for the cashier for example remove the search product tab. Add a category product instead to access example vegetables fruits ... and when you click on it a list of these product are shown
....
But overall the pos is really great just need some easy friendly platform and some additional custom functions
I ll be the first to go back to your soft
. Please keep me posted for any updates this
Response from

WooPOS

Hi Zied,

Thanks for the review. But we have all the custom options you have mentioned in your review. Some functions are hidden or need advanced special settings to show up. Please email us to get help on setup. And don't forget to give us a better review!

Thanks

Replied 01/05/2019
Industry: Information Technology & Services
Company size: Self Employed
Used

Weekly

for

2+ years

Review Source
---
The Beast of POS Systems
Extremely Amazing! Why? Because of [SENSITIVE CONTENT]. [SENSITIVE CONTENT] is the Man!
I was introduced to the system via an article written about one his clients, a vacuum business. In that article it mentioned WooPos. Why, I don't remember. I called that company and asked about his experience with WooPos. He said, he loved it but there was 1 thing he didn't understand. He said, "I only ever talked to guy, a guy named [SENSITIVE CONTENT]. But, every time he needed a customization or something fixed or changed, it was done in 20 minutes. He didn't understand it, because in the beginning there was quite a few 'tweaks' he wanted, but they were all done in 20-30 minutes. He loved it.
My experience, the exact same. It's been Amazing working with [SENSITIVE CONTENT]. He will do whatever it takes to help you get things off the ground and hold your hand to get it configured properly and up and running. And the 20 minute turn around time, it's real.
Pros
The fact that this thing does 'EVERYTHING' when it comes to a POS system is the biggest benefit. It literally does it all when it comes to managing anything that has anything to do with retail, from inventory stock level control to auto ordering based on those stock levels. Employee time cards, simple check-in and check-out. From simple daily reports to a complex breakdown to the micro detail. No limits either on data queries. Build them out exactly how you want, quick and simple.
Cons
On the other hand... The complexity of it can be overwhelming. You have to be ready to learn and really take it all in.
The biggest downfall to the software is the dated interface. While it doesn't look all fancy, it's a seriously solid piece of software and your not going to find updates breaking things or being dependent on an internet connection. You'll need one, but if the net goes down your POS doesn't.
The downfall is the way you have to build out your quick launch buttons. To create custom buttons you have to use an odd search/query string that is not so easy, or at least it's not so easy for me to wrap my head around it. I've installed the system twice and in one setting we are implementing as much of it as possible, over a period of time that is.
Their help files and documentation is pretty good and they have a page dedicated to these codes so that does help.