About Tovuti
Tovuti is an all-in-one, cloud-based solution designed to activate the potential of organizations through creating, delivering and tracking online training and education. The end-to-end solution gives users everything they need to build awesome eLearning programs, whether they're training their team, their partners or their customers. Features include: Course authoring, interactive content (including interactive video), live video conferencing, social communities, gamification, badges/certifications, reports/analytics, quizzes/assessments, user management, event management, eCommerce, subscription management, notifications (including geofenced notifications), instant messaging, blended learning, micro-learning, asynchronous learning, synchronous learning, directories, mobile learning and more. Tovuti also offers a full content management system (CMS) and the ability to host one or more websites with different branding, through its brand manager. Additionally, Tovuti has a library of 7,000 courses on HR training, compliance and professional development. Tovuti was designed to make training interactive, social and gamified – so your learners WANT to learn. And creating content is quick and easy. The built-in course authoring tool can either consume your existing content or can empower you to create more than 40 types of highly interactive content. And because everything is in one easy-to-use solution, you'll save time and money, and be able to report on your learners' entire journey.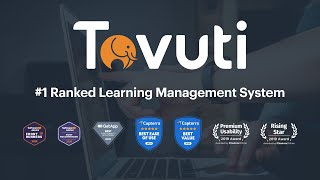 Tovuti does not have a free version but does offer a free trial. Tovuti paid version starts at US$450.00/month.
Starting Price:
US$450.00/month
Tovuti Reviews for UK Users
Industry: Design
Company size: 2-10 Employees
Used

Weekly

for

6-12 months

Review Source
---
Feature rich LMS that does everything you need & more!
Have been impressed with the features available in Tovuti. It does have a bit of a learning curve to it when setting up the content but once you get use to the interface its very easy to manage, author and track everything. Users have said they feel the product being offered is more premium and feels like they are getting their money's worth which has led them to continuing their learning with our other product courses.
Pros
Coming from WP Courseware which isn't too well built for mobile experiences it was great to see that Tovuti covered mobile users very well. Its clearly been designed from the ground up with mobile users in mind. Tracking participants progress and gaining feedback throughout their time spent on our course within Tovuti has meant we can more easily tweak course content to give a better experience. Gamification aspect has increased user engagement too which is always great, the leaderboard feature especially seems to be very popular among our users.
Cons
Had a few issues moving from WP Courseware but they were fixed quickly. I think it was more WP Courseware fault than Tovuti to be fair. I guess it would have been helpful to have a more detailed documentation on the migration aspect of things.
Industry: Management Consulting
Company size: 201-500 Employees
Used

Daily

for

1-5 months

Review Source
---
Tons of great features and easy to customize and use!
The sales and implementation team were great! There is so much information available online, that it made it easy to do a comparison before even talking to them, which then allowed me to focus on the functionality of the system. They have done a great job making sure that there are lots of resources available to help their users.
Pros
Tovuti has more customization features that I've seen with any other LMS, and making those areas customized is not only easy, but no required. If you choose not to do it, the platform looks just as great! It also had the most number of in course quizzes/knowledge tests of any platform. Finally, it was one of only a few platforms that allowed employees to be able to input their own training/certificates as they achieved them.
Cons
I haven't discovered any true cons with this product. It did take a little work to figure out which colors looked best according to what options it updates, but all in all, it's been pretty easy and straightforward.
Industry: Wireless
Company size: 2-10 Employees
Used

Weekly

for

6-12 months

Review Source
---
Not user friendly
Not very good. It's a confusing and disorganized platform that seems like it was created 10 years ago. There are a lot more modern and user friendly platforms I would probably use next time.
Pros
I liked that editing the site pages was straight forward and you can edit the pages how they would look updated on the site.
Cons
The blog section of the platform. I liked nothing about it. It was hard to use and didn't look good.
Industry: E-Learning
Company size: 501-1,000 Employees
Used

Weekly

for

6-12 months

Review Source
---
E-Learning the easy way
Overcoming pandemic and still be able to deliver teaching material without risking infections was our main goal. Tovuti was our solution for this problems and we weren't disappointed as it functions as well as we need. Easily one of the best E-Learning platforms out there.
Pros
Many features it offers especially quizzes and video meeting.
Being very easy to use
iOS and Android applications for easy access.
Cons
Currently teachers did not report any problems but it would've been better if we were able to have a free trial before we actually buy the product.
It also takes some time to be able to understand all features and use them properly.
No windows app so must use via Browser.
Industry: Professional Training & Coaching
Company size: Self Employed
Used

Daily

for

1-5 months

Review Source
---
I️ am new to Tovuti - Still Learning but LOVING!
It has been great, I️ was an ignorant consumer, didn't know what I️ didn't know and they took the time to educate me and answer all of my questions to support me in making the best decision in the worst of times (COVID19). Then after my initial on-boarding have consistently sustained that level of service. Thank you
Pros
4 Critical things for my Success:
1. Capability - it can honestly make almost anything I️ can think of work somehow
2. Scaleability - with that flexibility and customized branding makes it so I️ can scale it as fast as I️ can think it
3. User Friendly - I️ am a first timer when it comes to understanding LMS and the environment easy to learn even though there are a lot of options to learn if you really want to take your platform to the next level
4. Fantastic Support and Help Menu - can't say enough about this as a first timer on LMS!!! Priceless
Cons
It's like having a car with so many options you never feel like you learn how to use it or there is always something else behind door number 3....that is both invigorating and somewhat stressful but certainly better than the alternative.