About ClickTale
Clicktale is a customer engagement software that helps improve web usability, customer experience and increases the user conversion rate. Its customer analytics feature collects a bevy of data information and can track a users movement while using the site. It aggregates all browsing sessions into visual heat maps and actionable behavioral reports. In addition, it helps marketers to understand their customers' behavior. Clicktale offers experience analytics for web, mobile and experience analytics for apps. Its features include experience center, heat maps, session replays, conversion analytics, advanced data analytics and psychological analytics. Clicktale is integrated with platforms such as A/B and multivariate testing, content management, voice customer and application performance management. It serves in sectors that include e-commerce, telecommunication, media and content, finance and insurance, tech and travel.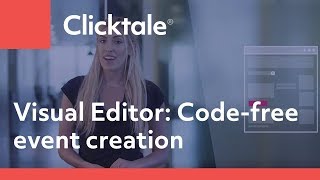 ClickTale does not have a free version but does offer a free trial.
Alternatives to ClickTale
ClickTale Reviews for UK Users
Industry: Management Consulting
Company size: 2-10 Employees
Used

Other

for

2+ years

Review Source
---
Expensive, but worth it!
We used ClickTale to see how our web site users were interacting with our content and all I can say is wow! Seeing how they were moving around the site, what they were clicking on was so valuable to us. We were able to make a few small tweaks and see big results in our revenue. They are a bit expensive compared to other solutions, but they are worth every penny if you are serious about getting the most out of your web site visitors.
Pros
- Outstanding information for your web site analytics
- Session replays and seeing what users do/click on is invaluable information
- Tons of reports and data that you can filter through to get a great understanding of your customers
Cons
- Can be cost prohibitive for most small businesses
Used

Weekly

for

1+ year

Review Source
---
Great user attention tool
Pros
Easy to implement - only with a script to the site - this software allows to see the Attention, Scroll reach, mouse movements, and even allows you to record a video of customers behaviour on your webpage. Great for enterprise use as they tailler the package and pricing to your needs
Cons
Sometimes can be slow or buggy in loading - user must be web savvy to be able to navigate and understand it.
Used

Monthly

for

6-12 months

Review Source
---
Not the greatest
Pros
The concept behind the software sounds great! Being able to see all how people interact with your website from screen recordings, heat maps, etc... but in reality it never really worked that well for my company.
The one good thing the company did was provide on-site training for the product. However, even after the training it felt it was super hard to use.
Cons
We have a large, multinational corporation with users from around the globe in multiple languages and currencies. Our codebase is more than 20 years old and our product is very complex. Because of this, our subscription never really got set up so well that I found any use for the software.
It seemed like something was always going wrong, no screen recordings were available, etc... every time I sat down to try to find something it was hard to figure out where to go and what to click on. The usability really needed a serious improvement.
In the end, we cancelled our subscription as the money we were paying and the use we got out of it didn't make sense. I would not recommend it unless you have a very simple product with a new codebase.
Industry: Computer Hardware
Company size: 10,000+ Employees
Used

Monthly

for

1+ year

Review Source
---
Great Insights on Visitor Behavior and Use on Your Website
My organization was able to gain invaluable visitor insight from ClickTale. We saw the ROI very quickly. However, every organization's situation is different, so the cost-benefit analysis needs to be done on a case-by-case basis.
Pros
Clicktale offers a peek into how visitors consume and navigate your site. Metrics like scroll reach, mouse movements, etc. allow you to actually see first-hand what the visitor journey looks like; this type of information can be invaluable and we never experienced this level of granularity prior to ClickTale.
Cons
Though it is feature-packed, ClickTale is quite costly. For the right organizations, it is invaluable, but for some companies, the ROI is not there.
Industry: Internet
Company size: 51-200 Employees
Used

Daily

for

1-5 months

Review Source
---
The best experience analytics
Pros
A lot of exclusive features: comparison between heatmaps; visual editor to identify customized events; two way integrations with GA360 and/or Adobe Analytics; advanced path analysis; and many more.
Cons
Sometimes it's stressful to have to jump from one platform to another (ClickTale Core and ClickTale Experience Cloud). Flash issues in some browsers.