About The Magazine Manager
The Magazine Manager is a suite of sales, production, marketing and billing applications that helps businesses manage proposals, advertising, pagination and more. It allows users to review and share proofs and exchange feedback on a centralized platform. Pricing is available on request and support is extended via live chat, phone, email and other measures. The Magazine Manager's customer relationship management module enables businesses to build, categorize and search the customer database based on names, phone numbers, emails, companies and addresses, among other categories. The ad order entry functionality allows businesses to create contracts, insertion orders and invoice templates for print, digital and display advertisements. Additionally, it comes with an invoicing tool, which lets users filter invoices based on statuses such as open, closed, past due date and more. The Magazine Manager's powerful reporting suite gives publishers insight into performance and profitability. Any information logged within the system can be effortlessly tracked and monitored. The Magazine Manager facilitates integration with several third-party solutions such as Quickbooks, Zapier, WordPress, MailChimp, Gmail and more. The Magazine Manager's integration with QuickBooks accounting gives publishing businesses the power to perform transactions, collect payments, store invoices, and prepare custom reports based on aging A/R summaries, sales agent performance, and conversion rate analysis. With Magazine Manager's Gmail integration, users are able to send targeted emails to groups of ten through a Gmail account. These emails are then recorded in their Gmail folder. We also have a template editor that can be used for both small batches and individual emails, so users can save email templates for sales reps to us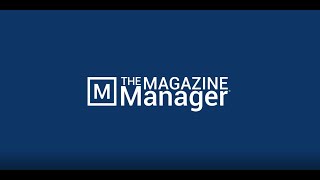 The Magazine Manager pricing
The Magazine Manager does not have a free version but does offer a free trial. The Magazine Manager paid version starts at US$55.00/month.
Starting Price:
US$55.00/month
Alternatives to The Magazine Manager
The Magazine Manager Reviews for UK Users
Industry: Publishing
Company size: 11-50 Employees
Used

Daily

for

2+ years

Review Source
---
Magman
We have had a great experience with The Magazine Manager..and its always improving and offering us newer and better options to conduct our business.
Pros
Wonderful system that seamlessly pulls all aspects of a growing business in one complete package. From sales to creative to customer to billing-this system is pulls it all together. I especially appreciate the emphasis on inter-department communications options. I am amazed the ease of adding new product lines to the system. The phone app has been wonderful for the account reps as well.
Cons
I believe the integration of this system was fairly smooth. There was a bit of a learning curve on both sides but the exceptional customer service portion of Magman is second to none.
Response from

Mirabel Technologies

Thank you for the great review, Margi! We appreciate you.

Replied 06/11/2020
Industry: Legal Services
Company size: 51-200 Employees
Used

Daily

for

2+ years

Review Source
---
This software changed our lives at work!
Pros
Magazine Manager is specifically designed for those of us in the print and digital publishing industry and it is crucial to our sales success. It is extremely easy to learn and apply immediately. With this software, we are able to quickly and easily pull targeted email lists to generate sales, electronically invoice clients in literally minutes, take payments, and with a click of a button know what our clients' ad schedules are, what they have paid and what they owe. It is totally transparent - the reporting for a sales manager - and accounting - is outstanding. I receive as often as I wish emails listing calls by rep, meetings, sales booked, and more. The digital tearsheets are invaluable. Client portals allow customers to upload their own ads and pay electronically any time. It is so easy to create new reports. As a past Salesforce user, this is SO much easier to use and because it is made for ad sales, the company deeply understands the details of exactly what we need from this software. The support team and trainers are outstanding. There is abundant free training with your subscription and online videos available any time. And it is surprisingly affordable! Magazine Manager is a vital tool to managing our operation and achieving our advertising sales success. We switched two years ago. Many times a day, every day, as we work in the software to serve our clients and achieve our goals, we marvel at how easy it is to do what we need and how much we love this software.
Cons
There is coordination with accounting required to set this up, but the accounting team also loves the software. It is important to visualize your publishing organization and the hierarchy of products and business units in order to structure the software best for you, but once you determine that, it is easy to set it up the way you need.
Response from

Mirabel Technologies

Thank you for the incredible review, Lisa! We greatly appreciate you.

Replied 14/10/2020
Industry: Architecture & Planning
Company size: 11-50 Employees
Used

Daily

for

2+ years

Review Source
---
Marketing Software That Works
Overall it has been a good experience. Changes to the invoicing and payment system have been helpful. Really looking forward to the Google integration.
Pros
With anything, there is a learning curve and it is the same with Magazine Manager. Once you have the features all figured out then things start to progress quickly. With the Client contact lists grading them is helpful so that you are getting to the Hottest clients first then working your way through the list. The mobile version is critical when out on the road.
Cons
My frustration comes when there is an agency involved with the account. The company contact comes up but then you have to remember that the agency is the one to contact and have to transfer out. Then when you capture an email to the agency to have put in the no0tes, it goes to all of the accounts that the agency is linked to and can create confusion. ie: Alex approved the Jan Issue Full Page for $6200. And the email ends up in several different accounts to Trinity Trailer, Nachurs Chemical company, and DoFine Irrigation.
Response from

Mirabel Technologies

Thank you for the kind review, Kevin! We will forward your feedback to the development team. We appreciate you!

Replied 19/05/2021
Industry: Publishing
Company size: 11-50 Employees
Used

Daily

for

1+ year

Review Source
---
The Good, Bad & the Ugly
I find it much more difficult that my previous database to work with when it comes to cancelling converted proposals.
Pros
The positive using this software is it is easy to see Accounts payable send invoices if needed.
Cons
It is not user friendly.
I find this software very difficult and cumbersome to manipulate.
Response from

Mirabel Technologies

Thanks for your review, Linda. We appreciate your feedback about the user experience on our software. We will forward your comments to our development team to better The Magazine Manager.

Replied 29/09/2020
Industry: Publishing
Company size: 11-50 Employees
Used

Daily

for

2+ years

Review Source
---
Versatile and Well Rounded Software
Pros
Magazine Manager is a solid well rounded product that does absolutely everything we need to publish all our products. The reporting as well as the accounting is simple and easy. Customer service is top notch. It was easy to deploy and the team at Magazine Manager is incredibly knowledgeable. Magazine Manager easily integrates to further facilitate its value. It is also easy to customize for any needs.
Cons
We found no cons only plusses from initial sale through implementation to user experience.
Response from

Mirabel Technologies

Thanks for the great review! We appreciate you.

Replied 02/03/2021