About Khaos Control Cloud
Khaos Control Cloud is a business management software solution that enables users to manage their stock, orders, customer communications, and finances, all in one central system. Users can streamline warehouse management and pick, pack & dispatch processes with powerful filters, invoice rules, and automated technology. With our sales order processing functionality, the solution allows users to enter and process sales orders for both B2B and B2C clients. Clients also have immediate access to important information concerning sales such as the latest stock levels, current promotions, and customer history. Khaos Control Cloud supports secure online payments and returns with Sage Pay integration. With Khaos Control Cloud's integrated CRM, users can manage prospects, quotations, and customers, and monitor and review communication from a single location. Users can manage multiple inventory sites with real-time visibility into inventory and stock levels. Reordering reports allow users to analyze stock levels and ordering patterns in order to make informed purchasing decisions. Users can also create and manage purchase orders with Khaos Control Cloud's purchase order system. The application includes further features such as courier integration, supply chain management, and returns management. Users can manage day-to-day financial transactions, debts, and VAT reports with Khaos Control Cloud's accounting tools. eCommerce management is supported through integration with eBay, Shopify, Amazon, BigCommerce, and WooCommerce, and ERP dashboards allow users to monitor business performance.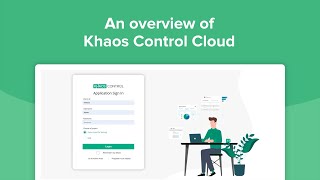 Khaos Control Cloud pricing
Khaos Control Cloud has a free version and offers a free trial. Khaos Control Cloud paid version starts at £63.00/month.
Starting Price:
£63.00/month
Alternatives to Khaos Control Cloud
Khaos Control Cloud Reviews for UK Users
Industry: Automotive
Company size: 2–10 Employees
Used

Daily

for

1+ year

Review Source
---
Khaos Control Cloud - Excellent Product
We have been using Khaos Control Cloud for the past 18 months, and have been really impressed with the system, they organise training and the support is excellent, they listen to what we have to say and always try to adapt their system to give us what we need to improve our business and hopefully others, it has made ordering and keeping track on what we have in stock and syncing with our website and Ebay particularly helpful, i would recommend KCC to anybody thinking of changing their system regardless of the size.
Pros
It has made ordering and keeping track on what we have in stock and syncing with our website and Ebay.
Cons
Creating an invoice could be made quicker less clicks to get from A to B.
Response from

Khaos Control Solutions

Thank you for the wonderful review, David. We're glad to hear the Vauxcentre team has been enjoying the system, and that it's been helping with ordering and managing stock. Here's to 2020 being another great year for you and the team!

Thanks,

Emma
Khaos Control Marketing Team

Replied 24/07/2020
Industry: Chemicals
Company size: 2–10 Employees
Used

Daily

for

6-12 months

Review Source
---
So much more than the obvious small business accounting software. Like a full ERP system for...
The ability to run a small business with big business software functionality.
Pros
Easy to use, fully functional on PC, Tablet & Phone! Full stock control: Bill of Materials (BOMs), kits, back ordering, suggested stock levels. Promotions: multiple customer price lists, special offers, Key Codes for tracking offers. Order Input: quick manual, import orders, returns, quotes. Full Schematic Overview of all orders/invoices in the system - means you are never running blind and provides a birds-eye view of the business. Accounts - fully functional, VAT, Banking, P&L, Nominals etc even has Zero integration if your accountant insists! Professional Documentation: Delivery Notes, Invoices etc all emailed. Essentially a web based ERP system without massive capital outlay but with reasonable monthly user fees.
Cons
Continual development! Further enhancements all the time just as you get used it.
Response from

Khaos Control Solutions

Thanks for a review, Phil! We're really happy to hear you're enjoying the complete functionality within the system. We hope 2020 is another great year for Beckland Solutions.

Thanks,

Emma
Khaos Control Marketing Team

Replied 09/03/2020
Industry: Retail
Company size: 11–50 Employees
Used

Daily

for

6-12 months

Review Source
---
DISHONEST COMPANY
In a word - terrible.
We went from one issue to another over the first few months, then hit an issue where they changed something in the back end of the system which meant our integration with APC couriers was sending the wrong information. The result of this was hundreds of pounds of unnecessary spend on our consignments.
When this issue was raised with KCC, they admitted it was their fault, but would not do anything about it.
They are a very dis-honest company, the product isn't class leading and the support is below par.
Pros
Easy to use, drag and drop feature, offers a full service in one package.
Cons
Constant problems with orders not coming in from channels, integrations they sold us as 'off-the-shelf' were actually not tested properly.
Basic issues with paperwork not displaying items properly, they couldn't fix,
Don't expect the product to work as they say. Most things break and you need to get them to fix them. And it's your responsibility to notice all the broken parts, tell them how it should work, and make sure they fix it.
Response from

Khaos Control Solutions

Hi Lance,

Thank you for your feedback, we're sorry to hear of your negative experience regarding our services.

We have been providing leading software to the mail-order and multi-channel retail industry for 20 years, and we pride ourselves on our proven ability to help our customers grow their businesses across multiple channels.

We are always happy to help with any aspect of setup, including the configuration of integrations, although we do so only upon request and use the same settings that are available to end-users; we never make configuration changes to customer systems without authorisation. We also always do our utmost to work alongside our customers to ensure that any requested configuration changes are appropriately validated by those who will be using them; however, this is more successful when our repeated requests for confirmation are not ignored.

We're sorry that, despite our best efforts, we were unable to reach a mutually agreeable conclusion on this occasion.

Replied 29/01/2020
Industry: Retail
Company size: 2–10 Employees
Used

Daily

for

6-12 months

Review Source
---
Fantastic platform! Stock control and order processing under control.
Pros
Intuitive and easy to use. All users have taken to the platform well and are confident on it.
KCC has automated - and brought accuracy to - large areas of our stock management and customer order processing. We operate across 2 warehouses as well as drop-shipping and with some customisation the platform has it all covered.
The implementation required an investment in time at a point where our order numbers were rising steeply. But with KCC we are able to deal with these increased order quantities more efficiently and we feel prepared to handle further growth.
Cons
Very little. Shopify integration works very well for online sales. We understand improved functionality is coming which will also populate customer details from Shopify point-of-sale orders into KCC Sales Orders - which would be great!
Response from

Khaos Control Solutions

What a great review, Chris. It's nice to see you're utilising the automation with Khaos Control Cloud to manage the different parts of your business.

Thanks,

Emma
Khaos Control Marketing Team

Replied 09/03/2020
Industry: Mechanical or Industrial Engineering
Company size: 11–50 Employees
Used

Daily

for

6-12 months

Review Source
---
Extensive functionality at great value for a cloud based system
Pros
Technical Support is excellent.
Does everything we need it to do - multiple locations, multiple currencies, large number of products, sales orders/purchase orders/stock management etc
Excellent value for money
I can access on any device, anywhere in the world
Cons
Lacking a comprehensive user manual.
No option to decide what information is output in the various reports - (invoices/orders etc)
Response from

Khaos Control Solutions

Hi Kate,

Thank you for leaving a review of Khaos Control Cloud, it's great to know that you're getting so much out of the application and that it's providing excellent value for your business.

Thanks also for the feedback with regards to our help and the invoice / order and other reports. I've fed that back to the appropriate teams for them to consider when defining our future roadmap for the product and how we support it.

Best regards,

Andy, Marketing Manager, Khaos Control Solutions Ltd

Replied 31/10/2017