About Clover
Clover POS is an integrated point-of-sale (POS) system with custom hardware designed for several types of retailers. This POS system is available in both web-based and server-based deployment versions and offers countertop hardware options, a mobile POS option, contactless payments, plus more. Clover Dining is the main POS app built specifically for restaurants. With the Clover POS system, businesses can streamline payment processing, sales, and inventory management, plus more. Clover can replace outdated processes involving a cash register, paper receipt printer, label printer, barcode scanner, plus others. Payment processing supports PIN and chip card payments, credit card swipes, Apple Pay transactions, and contactless payment types. Additionally, the Clover POS program integrates with QuickBooks, includes a time clock to track clock-in and clock-out times, and manages vendor maintenance and purchase orders. Hardware components offered include the countertop Clover Station, Clover Go card reader, Clover Mini POS station, the Clover Flex mobile payment processor, plus more. Additionally, the Clover App Market offers various solutions including gift card branding, marketing promotions, detailed analytics, online store integration, plus more. With the Clover POS dashboard, businesses can visualize key data metrics in real-time. Other features include order tracking, menu editing, and data reporting.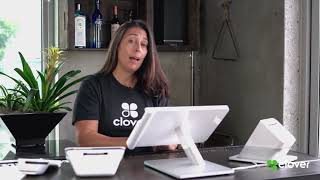 Clover does not have a free version but does offer a free trial.
Pricing Details:
Clover point of sale systems arrive payments-ready, with rates starting at 2.3% + 10¢ per transaction. Contact Clover for detailed pricing information.
Clover Reviews for UK Users
Industry: Marketing & Advertising
Company size: 2-10 Employees
Used

Monthly

for

1+ year

Review Source
---
Clover Review
I have had ups and downs in processing and tracking payments for clients over time and the cost of using the product as well as their invoicing system takes a significant toll on report sales and tracking invoices if you have to use third party software with the systems.
Pros
I like the POS hardware compatibility with my bluetooth/phone data plans, PC/Printing equipment and also as an Inventory management since it provides a built-in scanner on the Clover Flex.
Cons
The Third Party apps are better than the built in programs and services which increase the cost to use the POS systems with Clover.
Industry: Entertainment
Company size: 2-10 Employees
Used

Daily

for

6-12 months

Review Source
---
Almost Great...
My overall experience with clover has spanned from the creation of menus and items with sub menus and add ons for each item, as well as specials for days of the week as well as happy hour times to daily usage for pos transactions. Overall I have been very happy with everything, other than the need to set up account through bank, as I mentioned before.
Pros
I love how easy it is to use clover for grab and go, sit down service, or retail services. It is the only pos system I know of that is easy to use for one or all three of the above type of service. With one pos you can easily switch apps and have optimized layout and design for each of the above, while keeping the same items and menus/submenus.
Cons
I dislike that it has to be used through your bank. It makes it really hard for management to have the ability to access customer support and full features, since most owners dont want their employees, even management, to have access to full banking info.
Reasons for Choosing Clover
Better overall bundles and all inclusive services made clover a sole replacement for multiple previous softwares.
Reasons for Switching to Clover
Again it allowed for the use of only one company/software versus having to use multiple items for different needs such as pos transactions, inventory, scheduling etc.
Industry: Food & Beverages
Company size: 11-50 Employees
Used

Daily

for

1+ year

Review Source
---
Great but has limitations
Overall, it's been really great. Whenever we have issues, clover is usually able to solve it. Their customer service has been wonderful; they take time to understand issues and make notes for their software engineers when there's a bug.
Pros
Easy to use; intuitive layout.
The report overview can show sales by-the-hour which is helpful for planning.
The add-on apps have been working well; Menufy & the inventory audit are great.
The inventory audit add on also has a downloadable app which has significantly streamlined our inventory process.
Great customer service-they are able and willing to help fix any issues that come up.
Cons
The hardware can be glitchy. 2 examples: (1) the station will start clicking buttons randomly and sometimes this can only be stopped by restarting the machine. (2) the biometric finger print sign in will crash about 50% of the time when trying to add new employees.
The reports could be more customizable and the filters could be more detailed.
It would be nice if the whole thing was able to be customized to fit our unique needs, but for the price it works well enough.
Industry: Arts & Crafts
Company size: 2-10 Employees
Used

Daily

for

2+ years

Review Source
---
Would never recommend working with clover
Pros
Considering my treatment from Clover I just can't even consider any pros
Cons
You are locked in even after already paying 3 times what the machine is worth and paying a big lump sum none of that matters, there is no dealing with this company.
Industry: Food & Beverages
Company size: 2-10 Employees
Used

Daily

for

6-12 months

Review Source
---
Support staffs are not well trained billing errors
I would only give them 2 our of 5 stars.
Pros
Easy to manage, fast tech support, good features such as split payment,
Cons
after we closed our account, they still charged us for the monthly fee $39.95, to the old bank account that doesn't have enough fund. They had been charged the fee to our new bank account for months before we closed the account. Why they charged it to the old account for the final month(should not have charged). We ended up being charged by bank for Overdraft. Offline payment that we were not aware of so were charged $77 for three offline payment! I had hard time understand almost half of the staffs and the phone connection were not good a lot of time, outsourcing or just hired workers in foreign countries for lower labor cost? We switched to a different merchant that still use Clover but I learned the old clover machine won't work anymore. Long wait time when you need to talk to billing or other department