About Prophix
Prophix is a financial management solution used for financial consolidation, budgeting, analysis, planning and management reporting. The solution provides a spreadsheet-style interface that helps users to analyze financial data and organize information. Prophix can be deployed both cloud and on-premises and is suitable for a range of industries such as financial services, construction, government, and utilities. Prophix lets users manage information such as budgeting requirements, cash flow, balance sheets and income statements. Data analysis tools are also available. The solution supports both non-financial and financial budgeting, including top down, bottom up, zero-based and activity-based methodologies. The solution offers multiple modeling options for forecasting such as inter-period forecasts, "'what-if" analysis and rolling forecasts. It also provides modules for saving personnel records, such as salary, medical expenses and tax calculations. Support is offered via phone and email.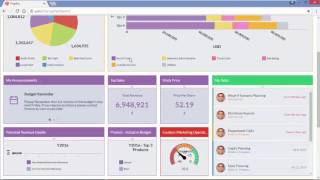 Prophix does not have a free version but does offer a free trial.
Starting Price:
Not provided by vendor
Prophix Reviews for UK Users
Industry: Nonprofit Organization Management
Company size: 201-500 Employees
Used

Daily

for

6-12 months

Review Source
---
Great Customer Service
Overall it has gone very well. I have learned a lot. The customer service has been sincere and helpful. Data integration is daily and report consolidation is easy to do.
Pros
The consultation and training was excellent. The data management is simple and effective. Easy to browse from different modules and pages. The knowledge bank is large and there is a large customer resource pool.
Cons
Some of the graphs and charts have limited accessories and capabilities. Learning curve was high, but this may be the nature of the software.
Industry: Insurance
Company size: 1,001-5,000 Employees
Used

Daily

for

1+ year

Review Source
---
Plethora of Options
Prophix is the best planning and expense analysis software I have seen. It has allowed me to streamline so many processes. This company also provides excellent training so that we have the ability to control the software and create whatever is needed. The consultants are knowledgeable and have helped us to customize the system to our company.
Pros
The Prophix Software is very versatile, starting with it creating a web-based platform. This was important for our company and allows the software to be updated quarterly without issue. We are able to use Prophix for Expense tracking, Expense and Capital planning, reforecasting, Compensation planning, Project tracking, Expense allocation, GAAP PLOB reporting, and still have several more tasks to implement through Prophix. The data can be sliced and diced many ways, and each user is able to do it however they like. It is easy to create or run existing reports. We have made many of our processes more efficient, and Prophix has allowed us to save more time than you can imagine. The software is easy to use and visually outstanding. The Prophix consultants were patient and supremely knowledgeable, personalizing and customizing the software to our company's needs.
Cons
There are so many options within Prophix that at times, it can be overwhelming. I think it's necessary to have a few Admin to create reports and assist users, so that the users do not have to know how to use everything.
Industry: Hospital & Health Care
Company size: 1,001-5,000 Employees
Used

Daily

for

2+ years

Review Source
---
Best in Ease of Use and Flexibility
Pros
The ability to be able to forecast and slice and dice data is key in financial and program review. Also, the ability to report on both financial and non financial metrics in one Report and dashboard is an amazing feature.
Cons
I would like to see the reporting be more enhanced like Dynamics management Reporter.
Industry: Construction
Company size: 10,000+ Employees
Used

Daily

for

2+ years

Review Source
---
Construction review
it met all of our needs and is a great software
Pros
its very flexible and provided what we needed
Cons
sometimes it can be a little slow and has crashed in the past
Industry: Furniture
Company size: 501-1,000 Employees
Used

Daily

for

2+ years

Review Source
---
Powerful, flexible reporting tool
Capex planning and project management including variance analysis budget vs actual, internal reporting (formal quarterly reports, ad hoc management reports, with variance analysis year-on-year), consolidated external reporting (several entities across multiple countries and currencies), other external reporting
Pros
Powerful and flexible- report on almost anything! Pull data from multiple sources and compile and present in an almost infinite number of different ways. review variances, budget vs actual, generate your annual financial statements- name your reporting requirement, this program can do it. Great customer support and a community of users with a dedicated forum for questions. They are constantly seeking feedback from their users and adding new improvements to their product.
Cons
Like any other new software, this represents a huge investment in time, training, and supplier relationship. There is a great deal of software specific jargon, although they are always working to simplify this and improve training. Some steps can take a long time for the report to load. Some reports may be very difficult to build. That said they can help you redesign the report to run faster. Almost anything is possible with the right approach though. They are based in Canada with a limited presence and customer base in Europe, and sometimes can feel very North-America specific. I think this is slowly improving though.