About Yooz
Yooz is a cloud-based purchase-2-pay (P2P) solution that helps businesses of all sizes to automate the accounts payable cycle, from invoice approvals to vendor communications. With its AI-enabled data capture platform, users can extract, scan and import data from documents and distribute it using email and electronic data interchange (EDI) measures. Yooz enables businesses to manage general ledger codes by automatically assigning numerals to financial entries, eliminating manual data entry. Users can utilize the purchase order matching capability to correlate original purchase orders with billed items, maintaining data consistency across invoice approval processes. Additionally, the platform enables users to access, approve and reassign invoices to stakeholders, even from remote locations. Yooz facilitates integration with third-party applications such as Abila, Akuiteo, Checkbook, Deltek and more. It is available on monthly subscriptions and support is extended via phone, email, documentation and live chat.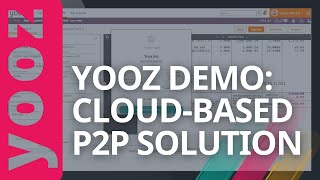 Yooz does not have a free version but does offer a free trial. Yooz paid version starts at £129.00/month.
Yooz Reviews for UK Users
Industry: Hospital & Health Care
Company size: 201-500 Employees
Used

Daily

for

1+ year

Review Source
---
True OCR technology. Ease of use and good customer support.
Elimination of the paper invoices. Quicker processing time of invoices. Less manual effort. Ability to approve invoices anywhere internet is accessible. True OCR technology reading the bills. Saves my Accounts Payable staff time allowing for redeployment of internal resources.
Pros
Ease of use. Ease of implementation. Training excellent. Good customer support. Mobile app. Ease of delegations for employees on vacation.
Cons
Dashboard cannot be customized. Limited metric data. No data on comparable companies in size, industry, or spend.
Response from

Yooz

Thank you for your Yooz review on our cloud-based AP Automation solution. We value our Yooz client champions and really appreciate you taking time to provide a review.

One of the many strengths of the Yooz platform that you pointed out, is our intelligent OCR feature that continues to learn (gets smarter) with ongoing use. Recently, PayStream rated our reporting features as one of most robust reporting platforms currently offered in the AP Automation space. Rest assured, continued development is on our road map. As always, if a customer needs a customized report, our Yooz client success manager can create and automatically send.

Thanks again for providing a review on Yooz! Have an amazing holiday season.

Replied 17/11/2017
Industry: Hospitality
Company size: 201-500 Employees
Used

Daily

for

1-5 months

Review Source
---
Yooz Review
We love the document storage in Yooz and the ability to communicate with coworkers and have the conversation "on the record" with each invoice.
Pros
We love that Yooz holds documents and invoice images to help us toward our goal of going paperless
Cons
The push ups for us is that we have to manually export from each company while being logged into each company in QBs individually. We have around 30 companies so this can be very time consuming.
Reasons for Switching to Yooz
The controls and ability to show invoice history.
Response from

Yooz

Thanks for sharing your experience with the Yooz solution! Glad to see you're enjoying the product.

We're here to help if any questions arise or you'd like to inquire about additional features. If you haven't done so already, please join our Linkedin User discussion group and attend our monthly Yooz Insider client exclusive, interactive live webinar hosted by our COO. www.GetYooz.com/resources.

Replied 23/09/2020
Industry: Investment Management
Company size: 201-500 Employees
Used

Weekly

for

1+ year

Review Source
---
Je ferais un autre choix post 18 mois d'usage
Le commercial nous a vendu en juin 2019, un outils intégrant flash player (qui disparaissait fin 2020) sans nous en informer. Nous devons bien sur 6 mois après supporter le cout d'une migration (aucun geste de la part de Yooz)
Pros
Logiciel assez simple d'utilisation
La connection à travers un raccourci web est très perfectible
Cons
Il manque un peu de personnalisation et pas d'option pour d'autres activités. Avec ma connaissance d'aujourd'hui je m'orienterai vers d'autres acteurs type Spendesk qui offre d'autres services (gestion note de frais, carte virtuelle, etc.) et permettent de consolider différents providers (et potentiellement les coûts liés) .
Response from

Yooz

Bertrand, thank you for taking the time to leave a review for your experience with Yooz. We are happy to say that we have been able to address your concerns with the recent launch of our new and improved features and user experience Yooz Rising! The new user experience hosts a number of ways to customize both the look and feel of your platform as well as the workflows. Yooz Rising is not Flash-based so that is no longer an issue but we also have a browser solution called OnlyYooz that our clients can use to run their current version of Yooz until they are migrated over to Rising.
We have been communicating these changes and the new UX launch to our clients since the end of last year via emails and in the monthly Yooz Insider (client-only) webinars. We will double check you have been receiving all of these communications.
I have passed along your feedback to our Customer Relationship team as well as your account manager and they should be reaching out to you directly.
The Yooz Team

Replied 22/04/2021
Industry: Education Management
Company size: 501-1,000 Employees
Used

Daily

for

6-12 months

Review Source
---
YOOZ AP Automation
It has helped tremendously with our AP processing. I have been able to increase productivity and accuracy and save money by not having to hire additional personnel. The company is very customer oriented and helpful.
Pros
Customer support is great. The implementation process was easy and the staff was very accomodating. We had many issues during our implementation and they were patient and quick with changes. They offered options for ways to organize and set things up. It is most likely not the best AP automation software but the price point was great and did the trick for us. We have a very difficult ERP system to work with and they managed to integrate it very well. They also brought in a customer that used our same accounting software to explain to us how they integrated the program and went out of their way to make sure that we knew what we were getting. Whenever there was any issue, they called in someone to help right away.
Cons
Not always user intuitive but once you get the hang of the program, it is easy. In the beginning of the implementation, we were moved from person to person but once we settled in, it worked well.
Response from

Yooz

Thank you so much for the good vibes you just sent our way! We try really hard to provide a platform that is intuitive and responsive along with dedicated and responsive customer support, and we¿re happy to hear that it¿s all working great for you.

Reach out any time for support, as Yooz is a very client-centric company. Be sure to check out our monthly webinar series, exclusively for our clients - The Yooz Insider. It is hosted by our COO who gives tips and tricks about using our platform and answer questions.

Thanks again for being an amazing client.

Replied 18/10/2018
Industry: Automotive
Company size: 201-500 Employees
Used

Daily

for

2+ years

Review Source
---
This software makes my job more efficient
saves me time on my work load to be able to work on other things.
Pros
I like that everything can be tracked from what time/date it enter the software to what time/date of when it got approved.
Cons
The one thing I don't about this software is the reports. There is not a lot of choice on what to run as far as running multiple vendors.
Response from

Yooz

Thanks for making our day with your positive review! It is customers like you that make our jobs great. We like to think we¿re doing a good job supporting our customers and keeping them engaged, and we want to know either way.

We continue to drive innovation into the Yooz platform, including enhanced reporting features. Often our client's need custom reports created for their unique workflows. The Yooz Support Team can help with this! Just call our support line at 832.384.9669 option 2, or e-mail our client success manager directly at [email protected]

Let¿s keep the conversation going. We have recently added a NEW monthly webinar exclusively for our clients where you may ask any questions you have about the Yooz platform directly to our chief innovation officer, Laurent Charpentier. Our next session is on 2.14.18.

Happy Yoozing!
Melissa Hendrick, VP of Marketing

Replied 25/01/2018