About QuickBooks Desktop Enterprise
QuickBooks Enterprise is an accounting solution designed for SMBs across different industry verticals such as construction, nonprofit distribution, manufacturing, and retail. With QB Enterprise solution, any business owner can expand business operations using advanced inventory, reporting, and invoice tools, in addition to premium support from Enterprise's CS and Payroll teams. Quickbooks includes inventory management, inventory tracking, expense tracking, payroll management, invoicing, multi-user management, advanced reporting tools, and more. QuickBooks Enterprise offers customizable reporting tools that help users analyze data and make informed business decisions. With over 200+ auto-filled templates and 70 industry-specific reports, this Quickbooks accounting software helps businesses find the QuickBooks data to solve any business issue. Quickbooks advanced inventory tools allow businesses to gain visibility and control over the inventory management process with the ability to track inventory movement, automatically scan and update inventory items, manage any purchase order/sales order from one dashboard, and plenty more. QuickBooks Enterprise also allows businesses to control, customize, and automate financial transactions with job costing tools, batch invoicing, invoice tracking, cash flow management, fixed asset tracking, sales tracking, payment processing, and more. Businesses also have to ability to scan and attach multiple documents including receipts and quotes for multiple accounting tasks. The tool enables businesses to arrange documents into categories and keep track of important accounting files. This solution also maintains a change log to record changes within each document with the proper date and time stamp. QB also offers different QuickBooks software such as QuickBooks Premier and QuickBooks Pro that includes include different functionality and features.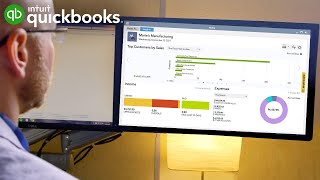 QuickBooks Desktop Enterprise pricing
QuickBooks Desktop Enterprise does not have a free version but does offer a free trial.
Starting Price:
Not provided by vendor
Alternatives to QuickBooks Desktop Enterprise
QuickBooks Desktop Enterprise Reviews for UK Users
Industry: Computer & Network Security
Company size: 2-10 Employees
Used

Daily

for

2+ years

Review Source
---
Our QB online is always ready when we are
Cloud services make everything more secure. Not having to purchase an upgrade year after year is one of the best benefits. Our business is sized so that the online version, which does have less functionality than the desktop version, still works for exactly what we need. The tutorials are helpful and there are plenty of YouTube videos to find a resolution for any problem you have.
Pros
The online version of QB makes it easy to always have the necessary updates and current edition. The file sharing capabilities are the exact tool that is needed for the accountant to easily have a hassle-free exchange of the data they need to keep your books and do taxes. QB payroll that can be accessed through the software and there is easy access to QuickBook loan funding should you ever need it. Anytime, anywhere access is a plus.
Cons
The naming convention for some processes are a bit daunting until you learn exactly where they are and what they are called. The updates can cause features to be relocated, making them difficult to find. As with all cloud-based software, sometimes there are issues with the online connectivity.
Industry: Business Supplies & Equipment
Company size: 11-50 Employees
Used

Daily

for

6-12 months

Review Source
---
Quickbooks is the best accounting software with easy and smart user interfaces
The best part of this software is that it is user - friendly and I love working with its GUI. It is very easy to use and far better than other software available in the market.
Pros
Quickbooks is a widely popular accounting software. It's compatibility with many banks and third party apps is well known. It keeps tracks of transactions. One surprising thing is that after the update , the reconciliation automatically matched all of my all of my debits and credits. It is very user - friendly. It has a lot of Out - of - box features. There are many reports which are very helpful for weekly accounting tasks (Sales, Invoices, Payroll). Various plug - ins can also be attached to add to advantages. No accounting knowledge is necessary and we can quickly import our data from a spreadsheet. QuickBooks provides reliable records for tax time.
Cons
I would say - Pricing ! Since , small scale enterprises operates with limited budget, the cost to buy this software is prohibitive to be a viable option.
Industry: Business Supplies & Equipment
Company size: 2-10 Employees
Used

Daily

for

1+ year

Review Source
---
'Enterprise' Appellation Undeserved
The unfortunate fact is that a QB Company file can become corrupted at any time for numerous reasons, and once corrupted your primary option is to submit the file to the Intuit Data Recovery team, who inform you that their repair effort will take up to three (3) business days, during which time your business operations are effectively suspended. My advice is to consider carefully whether your business can recover from such a disruption before betting its future on QB as a business operations platform.
Pros
QuickBooks does a fine job with basic accounting functions, is relatively easy to use, and the report suite is more than adequate for small businesses.
Cons
QuickBooks Enterprise Manufacturing & Wholesale version simply does not work as advertised, as two examples among many will demonstrate. QB offers 'Advanced Pricing' functionality which enables the user to define and apply pricing rules across their client roster and inventory items list. These rules are intended to allow the QB user to apply a 60% across-the-board discount for clients Ajax and AAA, while clients Acme and Consolidated receive that same discount plus custom pricing on items X, Y, and Z. However, after the pricing rules have been applied and those clients are being billed, changing the invoice or ship date results in the deletion of the shipping cost line-item, and changes to the pricing of items on the invoice. Research with QB support revealed that Advanced Pricing suffers from a bug that was known to Intuit for at least 1 month prior to when I invoked the Advanced Pricing functionality, and a full month later Intuit has been unable to remedy the bug. After invoking the 'Advanced Inventory' feature-set, which automatically creates a drop-ship warehouse site, I learned that product being purchased from a supplier and shipped directly to our client was being removed by QB from the count of physical inventory resident on our premises. Intuit tech support rep's response was (paraphrased) "That doesn't seem right, but I don't know much about Advanced Inventory - you should call back tomorrow morning, as the day-shift staff have more tenure and are more knowledgeable".
Industry: Computer Software
Company size: 2-10 Employees
Used

Daily

for

2+ years

Review Source
---
Our business depends on Quickbooks
Overall, I am very happy with Quickbooks, we have been a customer since 2014 - it works, it's dependable and the support is there if we need it (thankfully infrequently :) )
Pros
I love how easy it is to use and look up the information I need. It handles all the financial stuff we need to do without requiring a huge amount of expertise. It's also user friendly enough that I can train our staff in how to use it :)
Cons
One thing I notice is that the bank account in the software has never tracked our bank account exactly - so we always manage our bank account separately and use Quick books as a guide. I also find the ledger a little confusing to use, however I think that is more on my own accounting knowledge than any fault of the software
Industry: Electrical/Electronic Manufacturing
Company size: 501-1,000 Employees
Used

Daily

for

2+ years

Review Source
---
Quick Books Review
The low learning curve needed even and ease of use even to individuals with minimal accounting knowledge also I enjoy its robust inventory management and real-time accounting & reconciliation.
Pros
As a non accountant I found quick-books really easy to use with a well laid interface that has easily identifiable icons. The web version is the real deal it is very light with minimal lags and above all saves one the troubles of having to install on your PC. Also bank reconciliations are real time thanks to quick-books cross-software capabilities & integrations and lastly quick-book offers good value for money
Cons
I really do not like the user limitations that come with quick-books and also something needs to be done about the lack of features to link to hardware such as bar-code scanners and inventory tracking capabilities