About Constant Contact
Constant Contact delivers for small businesses with tools to simplify and amplify digital marketing. Whether it's driving sales, growing a customer base or engaging an audience, Constant Contact aims to help users build strong connections and generate results. Constant Contact aims to help users: - Grow their audiences Build a list fast with landing pages, social media lead ads, and more. - Deepen customer relationships Create professional emails, segment the list and automate messages to drive more engagement and sales for a business. - Simplify social media Create and manage social posts and ads to generate awareness, drive leads and promote growth. - Sync with the apps already in use Connect with digital tools already in use to grow and sell more online.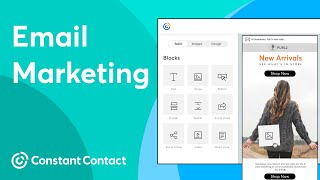 Constant Contact does not have a free version but does offer a free trial. Constant Contact paid version starts at US$12.00/month.
Starting Price:
US$12.00/month
Alternatives to Constant Contact
Constant Contact Reviews for UK Users
Industry: Marketing & Advertising
Company size: 2–10 Employees
Used

Weekly

for

6-12 months

Review Source
---
Constant Contact is really fabulous for email marketing--we use it for all our opted in...
We set up a landing page with a form fill, ad traffic to the landing page. Constant contact handled email and responses for all of the opted in addresses, and kept the leads warm while we developed them. Excellent deliverability, easy to use, just a first class software.
Pros
I'm pretty familiar with email software, having used four different options extensively. Constant contact was the slickest interface, the most intuitive programming, and all of the features I wanted, without being too expensive or difficult to use.
Cons
I have nothing but good things to say about constant contact. If I had to find a thing I like least, it would be the confusion between campaigns and programming.
Industry: Nonprofit Organization Management
Company size: 2–10 Employees
Used

Monthly

for

1-5 months

Review Source
---
Too much of too many
Overall? Not good, by any means. It works, and I don't have time to change again. Maybe in a few months or a year, I'll go looking for another vendor.
Pros
I find it pretty easy to create emails, using the drag-and-drop formatting boxes. The formatting menu floats, sometimes where I have to look for it, but formatting text is easy, too.
Cons
The constant pressure to upgrade, spend more. I do not and will not use all the features for my own reasons, and I am insulted when support reps (disguised as sales reps) imply I am stupid or foolish.
Industry: Arts & Crafts
Company size: 2–10 Employees
Used

Monthly

for

6-12 months

Review Source
---
Constant Contact for Business
Pros
Makes keeping connected to customers easy and manageable. Offers a wide range of integration tools to help improve workflow when conducing marketing programs
Real time feed back allows you to track success.
Cons
Limited design options that make enhancing an email marketing campaign more difficult.
Industry: Civic & Social Organization
Company size: 11–50 Employees
Used

Monthly

for

2+ years

Review Source
---
Constant Contact- an excellent program for email marketing campaigns and general digital...
Overall, my experience with Constant Contact over the years has been great. I have used it with nonprofits/not-for-profits, small businesses, and larger companies, and it has been helpful for all three. Most of my experience with Constant Contact has been with email marketing rather than with social media marketing, but from what I have seen, it is a fantastic program to use to implement a digital marketing strategy and the campaigns that go with it. The interface is easy to use, and the program itself is easy to learn and understand. Being able to upload contact lists from Excel and Outlook and integrate Constant Contact with programs such as Zoho allows for seamless transitions. Monitoring the perfor viewed at all; if that percentage is rather low, that tells us that we need to make a change, such as altering our subject lines to make them more engaging and the contacts more likely to view the emailmance of each email and campaign is one of, if not the absolute best, way to observe how successful our email marketing strategies and campaigns are. Over time, continuously seeing that various metrics/KPIs are not performing as we would like is a clear indicator that our strategy needs to be altered in some way. As someone who has the unique experience of using Constant Contact with different company types, this program has taught me a lot about how to implement and observe the performance of an email marketing strategy.
Pros
As a digital marketer, I have used Constant Contact with multiple clients and companies over the past 2+ years, and have always found it to be extremely helpful. The majority of my program usage has been for email marketing, although I have heard from team members that it is excellent for social media marketing and other areas of digital marketing as well. For email marketing, I have done it all from creating a company's very first email blast to creating contact lists to monitoring the performance of email campaigns. I recall the first time I used Constant Contact to write an email newsletter for a small business, and was immediately impressed at how simple the interface was for a then-beginner like myself. I was able to change up the imagery (including font and color scheme) and add my photos and infographics. To this day, I love how Constant Contact allows users to create different contact lists for other purposes and campaigns, and the program makes it very clear when sending out emails who exactly that email will be going out to. Though I don't have as much experience with campaign analytics using Constant Contact as I do with some of the other features, I do know that it's reporting of metrics/KPIs is extremely helpful when observing the performance of a particular email and of a campaign as a whole. I look forward to using additional features offered by Constant Contact in the future, including its tools for social media marketing.
Cons
Thus far, the only issue I have with Constant Contact is related to the different features available with the three pricing plans. Although Constant Contact's pricing is good when compared to its competitors, the selection of features available with the cheapest pricing plan, Lite, is rather limited. With this plan, only one user is allowed, and not much storage is given. With email marketing, there is neither A/B testing nor segmentation, which I find to be quite frustrating. Features related to ads, SEO, and scheduling social media posts in advance are not available either. With the Standard pricing plan, there are some more ads, segmentation, and email marketing features available, but users cannot see the full scope of all that Constant Contact has to offer unless they pay for the most expensive plan. Free trials are available, which is helpful, but there is also no free plan. Some of your competitors offer free plans (albeit with limited features) in which at least the basics of the program can be used.
Industry: Marketing & Advertising
Company size: Self Employed
Used

Monthly

for

6-12 months

Review Source
---
It offers inspiring design templates to start a project with.
I think that If the low-performant parts of this product are improved, it can be great -already there are quite a few other features that are doing well so far.
Pros
Based on my personal experience with Constant Contact, It's great so far because you get to use other external software with it and it's also very rich in terms of pre-designed templates which make it quick to easily create visually appealing landing pages without the need to start from scratch and they seem to well optimized for conversions -It helps to save effort and time though.- Another feature that I highly appreciate in Constant Contact it's that it actually gives you the ability to test different variations of your landing pages to identify which performs best in terms of conversion rates -well, this very amazing as it can be handy as it helps to minimize certain risks.- To get even fancier, it provides analytics that are helpful in tracking the performance of the landing pages such as page views, click-through rates, conversion rates, and much more which are essential for making data-driven decisions.
Cons
On the other hand, Constant Contact is limited in customization options. There are quite advanced features that some page builders like Brizy or Site Builder Pro offer which are completely absent in Constant Contact. This limits design potential and creativity as well.- It also lacks some advanced optimization features like dynamic text replacement, advanced targeting options, and opt-in form integration options.- To make the process even more complicated, Constant Contact offers poor SEO features. You don't even have full control over On-page SEO elements talkless of URL structure which can negatively impact organic search visibility.