About Namely
People are complex, but your HR solution shouldn't be. Namely gives you the resources to make your life easier and your employees happier. With modern, intuitive technology and a world-class team of HR experts, Namely empowers people teams with an all-in-one HR solution designed for mid-sized businesses (25-1000 employees). Streamline all of your HR data in a single platform with an interface you AND your workforce will love to use. Built for flexibility, your Namely platform is implemented with your unique business needs in mind. Whether you're transitioning from a PEO or switching to new HCM software, Namely has the technology and people to support your company every step of the way. Namely is an HR solution for people leaders who want to: Save Time Eliminate dual entry and manual tasks while freeing up your time to focus on innovative people strategies. Avoid Error With a fully integrated platform and a robust risk-management solution, you can feel confident you're up to date on compliance. Build Culture Namely's talent and performance management tools help you connect, engage, and develop your workforce from recruit to retire. Namely's all-in-one HR solution includes: HR Analytics, Payroll, Benefits Administration, Enrollment Wizard, Time Management, Performance Reviews, Applicant Tracking, Employee Onboarding, Comply Database, Live HR Advisors, and more. Do you need more than just an HR platform? We've got you covered. With Namely's enhanced services you can outsource payroll and benefits to our world-class experts. Namely's Managed Payroll Services are proven to reduce your workload, keep you compliant, and give you much-needed hours back in your day. And with Managed Benefits Services you get access to experienced brokers in addition to our modern benefits administration technology.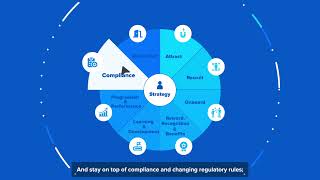 Namely does not have a free version.
Starting Price:
Not provided by vendor
Pricing Details:
Contact Namely for pricing details.
Namely Reviews for UK Users
Industry: Information Technology & Services
Company size: 201-500 Employees
Used

Weekly

for

2+ years

Review Source
---
Namely keeps us connected and focused at work.
Namely has helped us to manage the workforce, employee retention, understand data and insights within our organization, and keeping us connected in a single package, and we are able to benchmark our productivity, accountability, and credibility in terms of HR. We are able to set time cards, clock-in features at work, as a result, we are able to get optimum results. Managing time-off requests, sick leave(vacation) for employees has been a lot easier, and also the reporting and analytic feature of Namely has helped to keep track of every record at work. Overall, Namely has helped our organization in managing the workforce, employee engagement along with payroll, benefits, and talent management.
Pros
Namely is simply a great platform for HR, Payroll, and benefits management within the organizational framework, as it helps to create better workplaces with varying functionality to adapt in small to mid-size businesses and comply with different regulations at work.
Cons
No particular downsides of the software. Sometimes, I got a problem syncing employee's data to Namely. The API call is not worth handled by the application and keeps me disconnected. Hope this would be solved in the next update.
Response from

Namely

Thank you for your review! We really appreciate your feedback and are happy to hear that Namely helps you manage your workforce, keep employees engaged, and build a better workplace.

Replied 30/11/2020
Industry: E-Learning
Company size: 51-200 Employees
Used

Daily

for

2+ years

Review Source
---
Great All in One System for SMBs!
Friendly support staff, easy to get set-up, many self-service tools and customizations and always improving. I am very happy with Namely.
Pros
Easy to use, modern interface with many customizations. Excellent Onboarding tools with e-signatures that create a great first impression with new hires. Integrates with our ATS
Cons
Some features could be a little more polished, but none of it critical.
Reasons for Choosing Namely
Sentric's goal-setting features were sub-par.
Reasons for Switching to Namely
More features, more self-service customizations
Response from

Namely

Thank you for your review! We really appreciate your feedback and look forward to continue enhancing our platform to continue giving you the functions and flexibility that fit your company needs.

Replied 23/02/2021
Industry: Hospital & Health Care
Company size: 201-500 Employees
Used

Daily

for

2+ years

Review Source
---
Great for keeping up
Overall, highly positive.
Pros
Namely allows me to see company updates, but also to manage my resources that the company offers me. This includes PTO and crucial documents and tax info that helps on a yearly basis.
Cons
It could be a little more seamless on the UI side. With web 3.0, Namely is still a little clunky.
Response from

Namely

Thank you for your review! We really appreciate your feedback and are happy to hear that our platform helps you manage your resources and keep up with company updates.

Replied 24/09/2021
Industry: Internet
Company size: 201-500 Employees
Used

Daily

for

2+ years

Review Source
---
Avoid at all costs
Terrible - service reps do not know the system, standard payroll practice, let alone any questions. Service tickets get lost, takes months for resolution of more complex tasks and extreme micromanagement
Pros
It's pretty. There is really no other pro.
Cons
HRIS:
No proper Leave tracking for maternity/paternity, jury duty, bereavement leave ETC
There's no way to see a PTO accrual history
Employees are not alerted when their address format is invalid
Only one set of holidays - UK sees all US Holidays
When reporting structure changes you have to make MANUAL changes in Namely Payroll IN ADDITION to doing a mass upload in the HRIS
Doesn't auto track history of Job titles
Need to manually assign PTO to employees not automatic
Leave approval amends, not sent
Lack of point in time reporting
Does not auto assign pay group based on the type of pay entered
Payroll:
You can't retract partial payments
Had to print W2s and sort through employees that electronically consented and send out those that did not
"We have to do all of the calculations manually when there is a comp change in the middle of a pay period "
Invalid addresses prevent us from proceeding with payroll
We are unable to easily add "time and a half" for employees who work on holidays
Takes weeks to add a new department code
Tax withholdings do not flow seamlessly from HRIS to Payroll
If we need to Mark an employee as FICA tax exempt we need have to reach out to Namely as only they can do this
Employee ID do not flow over to HRIS
Manually have to add holiday pay for employees does not flow into payroll
You have to manually exclude employees from payroll once terminated
Time and attendance:
Time card entry is tedious
PTO doesn't communicate to Payroll
You have to man
Industry: Marketing & Advertising
Company size: 51-200 Employees
Used

Daily

for

6-12 months

Review Source
---
Namely is a great option for a mid sized company
Pros
The software flows very well and links everything so it's easy to onboard and offboard employees. The profiles store employee data efficiently and the reporting and analytics is very useful.
Cons
There are many inconsistencies or illogical set ups that make the software wonky at times. For example, titles are considered an "object" rather than text. So you have to add every title manually in the backend. THEN, only on the onboarding form can you search titles. Everywhere else you must search the alphabetized list manually for your title. This is just a minor inconvenience. A more major one is how salaries are handled. When inputting a salary for payroll you have to calculate out how much each check should be and input that in addition to listing the annual salary. This might be fine if every other form or field didn't calculate it automatically for you. This seems like a major oversight and really puts into perspective how this software was developed. And that is, many teams working on their own parts without any formal cohesion of functionality. Honestly, it feels like an intern built the whole onboarding piece (which is the function you will use the most).
Response from

Namely

Thank you for your review! We really appreciate your feedback and are happy to hear that our platform has simplified your onboarding and offboarding processes. As for your pain point about salaries, we apologize for your negative experience. Fixing that process is currently on our product roadmap and we look forward to making your experience as seamless as possible.

Replied 16/08/2021