About MasterControl Quality Excellence
MasterControl Quality Excellence (a QMS Software Solution) is an integrated quality management system that eliminates the need to paper-based quality processes. It helps life-science companies adhere more efficiently to the ever-changing FDA and ISO quality standards. MasterControl Quality Excellence enables over 1,000 customers across 30 countries to manage their quality and compliance processes and get their products to market at reduced cost with efficiency, regardless of the various regulations they face. MasterControl QMS also helps you automate task assignment, scheduling, follow-up, tracking, escalation, review, and approval of all document-based processes. The core application in the MasterControl suite integrates all quality processes including change control, customer complaints, corrective/preventive action (CAPA), and audits. MasterControl also offers a manufacturing solution called MasterControl Manufacturing Excellence. It is a suite of validated solutions that automates the end-to-end production lifecycle and integrates seamlessly with other enterprise applications such as MRP, MES, ERP, MOM and production scheduling.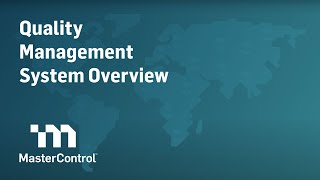 MasterControl Quality Excellence pricing
MasterControl Quality Excellence does not have a free version.
Starting Price:
Not provided by vendor
Alternatives to MasterControl Quality Excellence
MasterControl Quality Excellence Reviews for UK Users
Industry: Hospital & Health Care
Company size: 10,000+ Employees
Used

Daily

for

2+ years

Review Source
---
MasterControl Quality Management system
MasterControl has allowed us to replace book shelves of policy binders, file cabinets of employee training and competency forms. Staff can all access the same document at the same time instead of waiting for the binder to be free. Regulatory requirements are easy to track within the system.
Pros
This system is flexible enough for a any regulated industry. It includes a document management module, employee training module, Quality module that included Deviations, CAPA, Change Control, non-Conformance; Quality, risk management, etc.
Cons
The suite of modules has not been certified as HIPAA compliant, except for the Documents module. Full HIPAA compliance is on their timeline for 3rd quarter 2020.
Industry: Medical Devices
Company size: 11-50 Employees
Used

Daily

for

1+ year

Review Source
---
Implementation of Doc and Training
We had a paper training process and used PDM for document control, which was not ideal because the user had access to prior control document revisions. Once we were able to inventory our procedures and forms, we were able to implement a solution that is long term sustainable
We know we hit the jackpot, when the [SENSITIVE CONTENT HIDDEN] of the company said that was able to do training very easily because the document was attached to the training. He didn't need to attend training on how to use the software to figure out how do complete his procedure assignment training.
Pros
1) For the user, it was very easy for the user to complete training. Steps are very intuitive
2) Implemented a document control solution that prohibited certain users from seeing archived versions of the documents.
3) each to find document by searching by datacard elements
Cons
didn't set up data card structure as best that we could.
Industry: Biotechnology
Company size: 201-500 Employees
Used

Other

for

2+ years

Review Source
---
Most unintuitive software I've ever been forced to use
There are company-wide jokes about "Master Control Hell". At least it lets us bond in our commiseration.
Pros
Umm... that's really hard to say. Pretty colors, I guess.
Cons
Navigation is difficult.
"Help" is convoluted - no easy way to find answers. For example, I wanted to know where my task disappeared to after I clicked Launch. Could not find an answer.
App stalls very often with back button.
I could go on, but I'm tired. I've been trying to navigate Master Control for the last 3 hours.
Response from

MasterControl

We are sorry to hear that you were having trouble navigating the MasterControl product. We understand how important the user experience is, and work diligently to bring the best possible features to our latest product version. We would love to work with you directly to see how we can improve your MasterControl experience. If this is of interest to you, please contact us at [email protected]

Replied 09/10/2020
Industry: Medical Devices
Company size: 10,000+ Employees
Used

Daily

for

1+ year

Review Source
---
Enough for any regulated industry
MasterControl provided us everything we need for employee training. Use of paper records is not only impossible to control with a growing facility, it is a regulatory risk. The software is easy to use and definitely worth it. I can't speak to the report management side of it but I imagine it gets the job done as well based on what I have seen for training.
Pros
Plenty of features available, including CCM, CAPA, NCR and more. We mainly use it for management of employee training. Previously, we used a paper based training system. MasterControl is easy to use from a management side and the user end. Our employees got it right away and it worked like a charm at our facility. When new trainings are ready, they immediately get assigned.
Cons
Navigation can be a bit difficult. There are some features we would like removed just for ease of use for our employees, especially new employees. These are very minor criticisms and ultimately it does exactly what we want it to do.
Industry: Medical Practice
Company size: 1,001-5,000 Employees
Used

Daily

for

6-12 months

Review Source
---
System Integration
We needed a validated system to replace our existing homegrown systems. The integration of the modules made this move a relatively painless one.
Pros
We went from several home grown or small scale products and rolled them all into one with MasterControl. It significantly lowered our risk, makes our processes more efficient, and streamlined ongoing system maintenance and support. Many systems are good about recording information (all the inputs) but don't put much effort into the outputs. MasterControl makes it easy to pull out the information you are looking for and schedule specific reports for delivery when needed.
Cons
Being new to the medical device world, the sign offs and approvals seems cumbersome, but I would expect those from any system in this arena. That was a little to get used to, but it is setting us up for success when it comes audit time.