About Servant Keeper
Servant Keeper by Servant PC Resources is a hybrid church management solution that caters to churches and faith-based organizations and helps them to manage their business operations. The solution enables churches to search through their congregation to pinpoint specific skills among their members, track attendance or communicate via email with their constituents. When entering a new member or family into the solution, common information - last name, address, and phone number - are copied over automatically. The data can be edited to account for differences in family information, when applicable. Customizable data fields provide an additional way for churches to tailor Servant Keeper to meet their unique needs and specifications. If an attendee is just a visitor, they can be automatically excluded from member-only marketing collateral, such as emails and mailings. Additionally, Servant Keeper offers functionalities for online giving, child check-in for security, online scheduling and accounting. Services are offered for a one-time fee that includes support via email and online resources.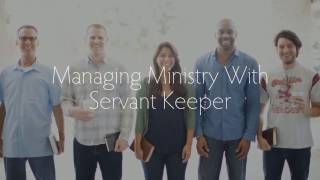 Servant Keeper does not have a free version but does offer a free trial. Servant Keeper paid version starts at US$9.99/month.
Starting Price:
US$9.99/month
Alternatives to Servant Keeper
Servant Keeper Reviews for UK Users
Industry: Religious Institutions
Company size: 11-50 Employees
Used

Daily

for

6-12 months

Review Source
---
Recommendation for Servant Keeper 8, Cloud Version
SK allows us to have one database that all staff use to keep track of our members, potential members, friends. We track contacts with all in our database, add pictures, notes, visits, attendance. We have added Protect My Ministry to do background checks.
Pros
SK is extremely user friendly and intuitive. It provides a full range of capabilities from basic demographics, attendance, contribution processing and reporting to group e-mails, data sorting on nearly every field, "dashboard" information to get church info in a quick format and well trained, easily available customer support. SK converted 3 years worth of contribution information and all the demographic information from our old system and helped us configure to our needs with SK8 under the "white glove" experience. Training videos provided were excellent. On-going webinars and live training have also been well worth my time. We have all staff set up with the Mobile Ministry app so they can find e-mail, telephone or address while on the go.
Cons
I only had one issue that has been a problem, but SK corrected it in an update.
Industry: Religious Institutions
Company size: 2-10 Employees
Used

Daily

for

2+ years

Review Source
---
Servant Keeper The Choice in Church Software Innovative and Integrative; Relational Software
We have integrated our accounting and membership departments. We have had been able to communicate more effectively and efficiently with the congregation through the SK Notify tools. We are expanding our functionality by adding Event Brite, Check In and Cloud Directory. We anticipate simpler processes and more excellence with the addition of these tools. Having the ability to equip others to utilize the SK tools definitely supports stronger relationships which in turn supports less money for staffing due to the time saved through equipping others. SK continues to impress me with their ability to listen and hear their audience by remaining innovative with their software.
Pros
The synergy for how all the modules work together. The opportunity to add add on modules when ready both financially and with personnel. The Cloud version is outstanding and the addition of the apps. Time saving! Connectivity at its best! These additions bring the corporation, the leadership and the attendees into relationship because of the tools. Our organization has always appreciated the Support Desk. When i think of Servant Keeper SERVANT always a listening ear and continual support via phone, email or on site trainings. KEEPER committed to excellent support and excellent products.
Cons
There is definitely a learning curve however the Webinars, Trainings, Tutorials, Support Desk make it possible for anyone to use SK.
Industry: Religious Institutions
Company size: 2-10 Employees
Used

Daily

for

1-5 months

Review Source
---
Servant Keeper for a Mid-Sized Church
SK is a huge benefit in tracking all kinds of information regarding our membership and in producing digital and paper directories.
Pros
I'm not utilizing everything yet but these are the things I'm using and have found to be very helpful:
A membership database with the ability to run all kinds of reports.
The ability to create a paper directory/pictorial directory that includes contact information for the whole family.
Easily upload and crop pictures for family profiles and individual profiles.
Access to membership data through the SK App
Customer support is exceptional! Whenever I call needing help the staff is very kind, professional, and helpful.
Cons
The inability to change the preschool designations in the school grade category.
The inability to move around between
I have difficulty finding the information I am looking for with the help/search tool in the database.
Industry: Nonprofit Organization Management
Company size: 2-10 Employees
Used

Daily

for

2+ years

Review Source
---
Fine folks, but inferior product
It served us well in our early years as a church. But as our needs grew, SK didnt work for us. Great price. Great folks. Very limited functionality. If you're needing a simple solution JUST to keep up with donations, this will work. If you need more than that, this product might not be the best for you.
Pros
Not much. I think the staff at SK are great and fine people, but the software is lacking!
Cons
The GUI is archaic, outdated, and looks like one has taken a trip back into Windows 95.
The install is awkward, at least on a Mac.
There arent a ton of feature that can be done with this software. Reporting is limited, and there's no workflows, automated reporting, member portal, attendance module, etc.
Response from

Faithlife

Hi Michael,

Thank you for using Servant Keeper.

We actually do have a member portal, attendance module, in-depth dashboard reporting and much more on our latest version of the cloud.

Plus, Servant Keeper has just joined the Faithlife Family. Faithlife, the makers of Logos Bible Software, is now working hand-in-hand with Servant Keeper. This means as of today, Servant Keeper customers now have access to more tools than ever before, and at special pricing! Not only can ministries manage their membership and contributions, they can access online giving, better manage events, offer their church members and ministry team Logos Bible software and Faithlife TV, run a professional and automated website, schedule and run effective ministry services with impactful presentations, and so much more.

We encourage you to take a look at all that's possible. As always, we're here to help you if you have any questions.

Thank you,

Servant Keeper

Replied 18/02/2021
Industry: Nonprofit Organization Management
Company size: Self Employed
Used

Daily

for

2+ years

Review Source
---
[SENSITIVE CONTENT HIDDEN] -- Excellent Assistance
Pros
Reports and immediate assistance when needed.
Cons
I wish they did not constantly try to get us to upgrade.