About aACE
aACE offers on-premise and cloud-based business management software for small and midsize businesses. Modules include accounting, customer relationship management (CRM), enterprise resource planning (ERP), inventory management, order management and production management. Other features include shipping and receiving management, calendar management and scheduling. The accounting module provides general ledger, lead tracking and balance sheet capabilities. The CRM module allows users to manage relationships with vendors and partners, as well as monitor sales, quotes and overall business performance. The ERP module integrates sales, operations and accounting tools. The software helps users manage their production process from job tracking to delivery. aACE offers integrations with payment processing companies, email marketing, shipping and e-commerce companies. aACE is available with monthly subscription pricing. iOS mobile apps are also available.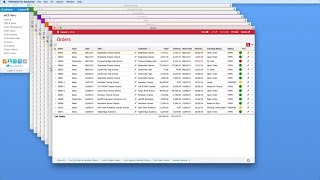 aACE does not have a free version.
Starting Price:
Not provided by vendor
Pricing Details:
See www.aacesoft.com/pricing for details.
aACE Reviews for UK Users
Industry: Design
Company size: 51-200 Employees
Used

Daily

for

2+ years

Review Source
---
Adaptable full business management software
aACe helped us to bring all of our company functions together into one system. This has helped us with automating reporting and avoiding the need for extra cross checking among systems.
Pros
aAce, has been a great management tool for us. We required a flexible solution to match a quirky business but also a structure that would help us to follow GAAP and other Best Practice specifics. As with any large system implementation this has taken some time, money and adaptations. We are very happy now with where we are though.
Cons
Lack of an instruction manual and limits in "help" database has been a challenge for users.
Response from

aACE Software

Thank you for the wonderful review of aACE 4, Lance!

Replied 22/04/2019
Industry: Machinery
Company size: 2-10 Employees
Used

Daily

for

2+ years

Review Source
---
aACE covered our needs
aACE will be our system going forward, do not see any reason to look elsewhere.
Pros
Customization was the key for us, we were able to handle basics of Accounting, Sales and Purchases but more importantly we were able to customize to address product specifications, jobs in progress and track raw material and finish products with associated cost.
Cons
Only problem we encountered was in transition from original system to upgrade, but customer support did an excellent job of getting us through the transition.
Would like to see Payroll added.
Response from

aACE Software

Thank you for your wonderful feedback, Frank!

Replied 23/11/2020
Industry: Motion Pictures & Film
Company size: 11-50 Employees
Used

Daily

for

2+ years

Review Source
---
Controller
The aAce team is very knowledgable about their product. They learn as much about your business and your workflow and help you come up with solutions to make you and your team more efficient. Then then adapt their robust product to achieve those goals.
They are also their to tweak the product as your business adapts.
Responses to calls and emails are handled on a timely basis and they work with you based upon the severity of your needs
Pros
The ease of use and the cost effectiveness of the product. The ability to drill down and get information. Also how well it works with excel and other accounting tools
Cons
I would love to see the financial reports look more ones produced by the accounting world. The general ledger should show a running balance instead of having to print a dated trial balance to look at a specific period.
Response from

aACE Software

Thank you for the review of aACE version 4, Neil! We have listened to your feedback and redesigned the balance sheet and income statement reports for aACE version 5.

Replied 20/02/2017
Industry: Furniture
Company size: 51-200 Employees
Used

Daily

for

2+ years

Review Source
---
aACE for the Win
Pros
The fully integrated accounting and inventory modules, multiple built-in integrations with external systems, and the fact that it built on the FileMaker Platform have allowed us to implement a robust, highly customized ERP system at a fraction of the typical cost. We were able to integrate aACE with our pre-existing systems to allow for a controlled, staged transition from legacy to new with minimal disruptions to daily operations.
Cons
I wouldn't call it a dislike per se, but my biggest challenge was simply adapting to a system whose interface conventions were no of my own design. The List View paradigm that aACE uses was foreign to me at first, but over time I recognized the benefits inherent in it.
Response from

aACE Software

Thank you for your review of aACE 5, David! We appreciate the positive feedback and are happy to hear that our navigation conventions grew on you :-)

Replied 10/09/2019
Industry: Chemicals
Company size: 2-10 Employees
Used

Daily

for

2+ years

Review Source
---
aACE was a Critical Component to the Success of our Company's Future
I'm the IT administrator for our company. Coming off Quickbooks, we found that QB just wasn't offering us all the flexibility and horsepower we needed from an ERP. It needed to handle all the complexities of our day to day operations, give us the reports we needed, integrate into our existing process - and then fade into the background as everyone became comfortable with it to get the job done. aACE has done all that. It transformed our order fulfillment process during implementation by helping us see trouble spots in our processes. aACE was able to customize a few key components for us very intelligently that now just work. Exactly the way we need them to. Employee adoption was slow to start, like most ERP's, but now even our most technology-adverse employees use aACE as reliably as the notepad beside their mouse.
Three years later, we're going strong and preparing to launch new initiatives to promote future growth. That process requires a lot of thought and preparation, but one thing we don't have to worry about is if aACE can handle it. There have been several occasions in our company strategy meetings where the question is asked "Can aACE do that?" and it's a pleasure every time when I get to say, "Yeah that's already built in."
The software is intuitive, smart, and reliable. Sometimes I check my aACE server uptime just to see how long it's been since the last restart because we don't have issues with it. It just works for months on end. As a technology professional, I was sensitive to the aesthetics, workflow and usability of the software - all important qualities for it to be a "fade into the background" kind of solution. From first glance to present day, I'm continually impressed by how aACE works the way you expect it to. I've had a chance to demo the aACEv5 environment and on top of it being a welcomed face-lift, the attention to detail in new features and how existing features were improved is uncanny. You can tell the developers have an eye for detail and are not afraid to scrap, redo and improve. I can't wait to launch aACE 5 in our organization!
Pros
The software does what you'd expect from an ERP and the user interface is not complicated or hurried in menus. It's all right in front of you!
Cons
Nothing that wasn't quickly taken care of. Anytime their support documentation online didn't have the answers I was looking for, aACE had a quick response through my support rep. I'm happy to see the continued growth of the online documentation.
Response from

aACE Software

Thank you for the wonderful review of aACE 4, Derek! We're excited to upgrade EWS to aACE 5, as well. You'll be happy to find that many of your suggestions over the years made it into the new version of the software.

Replied 22/03/2017