About Sealit
Sealit solutions provide end-to-end encryption giving full data management to its users with email and file protection. Seamlessly implemented with communication & collaboration tools that you already use. Best for small businesses and individuals. Sealit's key features include, Gmail and Microsoft Outlook email and file attachment encryption, Slack integration, encryption key management, sent, shared or saved data security, access management to your data at any time. It also enables team leaders to monitor security access to data (login, email, file share, location access) and prevent unverified recipient sharing with Sealit recipient scanning. Protect your work and your business with full collaboration and communication lifecycle security. Send emails, share files, write secure Slack messages - all with Sealit solution. Sealit is GDPR, CCPA, and HIPAA compliant.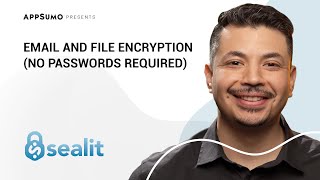 Sealit does not have a free version and does not offer a free trial. Sealit paid version starts at US$69.00/one-time.
Starting Price:
US$69.00/one-time
Sealit Reviews for UK Users
Industry: Insurance
Company size: 2-10 Employees
Used

Daily

for

1-5 months

Review Source
---
Sealit - Secure your peace of mind!
Love the ease of use, I was always looking for a reliable, yet affordable zero trust secure email system, and sealit checks the right boxes, The product is affordable, generous with limits and teams and provides a total peace of mind when you send out that confidential email knowing that you would be kept in the loop all along the way, and you are in control even after hitting the send button.
The support team is very responsive, and are active on their facebook group and the chat on their website, and dont shy away jumping onto a video call to explain and help you set up their product.
Overall a must buy if you are looking for that next level in email security, all without having to change your email address and jump through a thousand hoops to get it done.
Get sealit and secure your peace of mind.
Pros
- Easily integrates with Gmail and outlook, and has a neat app to authenticate requests.
- Supports PIN based authentications for elderly who might not be app savvy.
- Encrypts local files and add a layer of biometric security such that unintended users cannot snoop around.
- Provides granular control on the sent emails and encrypted attachments, if the attachments are encrypted, you get to control when and who is able to view or access the attachments.
- You can allow\deny access to any sent email recipient from the control panel, which means zero panic when that confidential document is sent to the incorrect recipient, no more recalls, just head over to the admin mode and deny access.
Total Peace of mind.
Cons
-The one feature that i would like to have is the ability to have the recipient also reply with a sealit secure email, presently this is not available, but is on the roadmap so looking forward to getting it eventually.
-The other feature which could be improved is better control on email formatting, not all fonts and sizes are supported, which leaves a lot wanting when your brand uses custom fonts.
Industry: Events Services
Company size: 11-50 Employees
Used

Daily

for

1-5 months

Review Source
---
Secure emailing system
I think this is first in the market! I am unsure if there is an alternative thou.
Pros
I like the secure system where we can encrypt and decrypt our email, there is an analytics for us to see the opening of our emails. This is a great tool to especially when we send out contract for signing and banking matters. Sealit cannot have access to our data too.
Cons
This is a great tool, however downloading the apps can a little tedious but then again if we want secure transaction, this is the best way.
Industry: Design
Company size: 2-10 Employees
Used

Weekly

for

1-5 months

Review Source
---
Easy protection for your important files and email
My experience so far has been very good with Sealit, I am relatively new to using this application, I hope they can continue to give good support as they have been up to now.
I have been presented with some errors, but they have fixed it once and for all.
Pros
Easy Protection for your important files and email.
What I like the most about Sealit is the ease with which we can compress our emails and files on our PC.
They have worked very well on their design and mobile application which is very well designed.
They have thought of several platforms to be able to use this product, some of them are Outlook, Gmail or GSuite, iOS, Android, PC, etc.
In the APP we can see everything that happens with our encrypted files, such as alerts of the last thing that has happened with our account, we can see the encrypted emails sent and received, the activities of all encrypted, open emails, it shows us a Passcode the which allows us to read encrypted emails, etc.
Cons
Currently it does not allow full folder encryption on a PC, but they informed me that they have it scheduled to be implemented, hopefully soon.
Its entire platform is in English, it still does not allow translation into any other language such as Spanish, I hope they include it soon.
It is a relatively new company, so we hope that it can be maintained and never decide to close.
Industry: Apparel & Fashion
Company size: Self Employed
Used

Daily

for

1-5 months

Review Source
---
Easy to use, well designed
I use it to protect encrypt and protect my clothing designs.
Pros
The software was easy to set up and the mobile application worked smoothly.
Cons
I use a Mac and for now there is no desktop app for this yet, so I sign into the portal online to use it.
Response from

Sealit Technologies

Hi Lana, thank you for your review - the desktop app for file encryption will soon be available for Mac users as well!

Replied 27/07/2022
Industry: Computer & Network Security
Company size: 51-200 Employees
Used

Daily

for

1-5 months

Review Source
---
Seal the deal, best product to secure email
loved using this tool, hoping for many other functions like the self-destruction function.
Pros
encrypting the email attachments was amazing for security.
Cons
its doesn't work with custom email service providers