About SolarWinds Service Desk
SolarWinds Service Desk is suitable for companies seeking a help desk solution that offers IT service management (ITSM) functionalities. SolarWinds Service Desk offers comprehensive service desk functionality that helps businesses respond to service requests in a timely manner, resulting in improved support. SolarWinds Service Desk is a cloud-based software offered for an annual subscription. In the system, users can manage service tickets and company assets. It also works on the go from any smartphone or tablet equipped with a web browser. SolarWinds Service Desk integrates with other applications, including Google Apps, Salesforce.com, OneLogin and over 140 other applications. Users can submit service tickets through either email or the inbuilt self-service portal. The portal empowers users to search for a solution independently using the system's configurable knowledge base. Customers can also submit a new request and check on the status of a pending issue.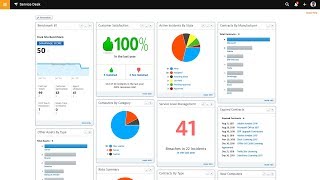 SolarWinds Service Desk pricing
SolarWinds Service Desk does not have a free version but does offer a free trial. SolarWinds Service Desk paid version starts at US$19.00/month.
Pricing Details:
Team - $19 Business - $39 Professional - $69 Enterprise - $89 Pricing is per month, per agent. Contact SolarWinds to request a price quote.
View Pricing Plans
Alternatives to SolarWinds Service Desk
SolarWinds Service Desk Reviews for UK Users
Industry: Retail
Company size: 10,000+ Employees
Used

Daily

for

2+ years

Review Source
---
Hossam's SolarWinds Service Desk Review
My overall experience with SolarWinds is very positive, although we have switched to another system due to budget issues, yet i still prefer it.
Pros
SolarWinds Service Desk is easy to use & what i like most about it is its dashboard customization feature, as i can be able to monitor my team's ticket status all day long, without having to look into the tickets of other teams, and being SolarWinds, it gives me the ability to view it in appealing charts, and reporting & notification is well maintained.
Cons
The least i like about it is its cost in relative to other ticketing systems in the market.
Reasons for Switching to SolarWinds Service Desk
Because we are already using SolarWinds Network monitoring tools, so it makes life easier to use the products of the same vendor in terms of integration & ease of use.
Industry: Environmental Services
Company size: 501-1,000 Employees
Used

Daily

for

6-12 months

Review Source
---
Huge Upgrade
Overall experience with this product have been great so far. Our employees use this platform more than our last and they have also been able to find their own solutions more. I really love the support from the customer support a lot. The support is always right on top of any issues and I have experience very quick responses when I do need to contact them. A+ on customer support.
Pros
I like how easy the GUI is, editing the categories and assigning the ticket to a support tech is all very simple right from the first view. I also like how there is a quick view option where you can view the ticket without having to leave the screen.
Cons
We have an issue with Tasks. They cannot be changed once a service catalog item is ran which has made us have to create work around or create extra tickets in order for multiple people to work on one catalog item.
Reasons for Choosing SolarWinds Service Desk
We needed a friendlier GUI with more User integration.
Reasons for Switching to SolarWinds Service Desk
Cost to features were a big plus. We got everything out of the box with Service Desk that we need currently.
Industry: Information Technology & Services
Company size: 51-200 Employees
Used

Daily

for

1+ year

Review Source
---
Ideal tool for service desk management
*Solar wind is one stop for a managed service desk tool.
*IT has numerous feature associated within, one among is solarwinds network monitoring. Usually organization will have a different tool for network monitoring itself but solarwinds provides access to this future without needing to have different tool.
*Easy to access and multiple means of ticket creation and tracking.
Pros
Network Monitoring and Reporting / analytics re two feature mostly used in our organization.
This tool also helped me log into employees desktop and understand step by step to resolve any particular issue.
Provides way better workflow process and I am sure It may get way bigger.
Cons
Reports could be managed in a better format or structure because there is so much you can do with reports.
Industry: Warehousing
Company size: 1,001-5,000 Employees
Used

Daily

for

1+ year

Review Source
---
Good Out-Of-Box product for small, scalable team
We were attempting to solve the issue of ticket management in the IT department. While it was a great out-of-the-box solution, it didn't offer the unique scalability we needed and the customer service wasn't helpful in growing the product with our needs. However, I still believe that, for a small shop, this product offers the best value for the price and is a great entry-level solution.
Pros
I like that, out-of-the-box, Samanage offers great core functionality with a stable product that ties neatly into a beautiful UI for the end users. The UI is where Samanage really knocks it out of the park though. It's modern, simplistic, "forum" layout is attractive and intuitive, and chat indicators on the tickets feels like your moving from a traditional email reply into a IM chat.
Cons
There's a lot to be desired when it comes to the fine details of the service. There are specific customization options for project management and ticket automation that aren't available that we wanted in our shop. When we reached out to our support member to discuss a possible addition/fix. They advised us to post our suggestion on their feedback board and if it received enough votes they would implement it. The same suggestion was found submitted over a year ago on the board (with over 300+ votes) yet no action was taken. I was hoping for a more, collaborative answer, instead of posting on a forum board in hopes that other members validate my need for them to implement it.
Industry: Nonprofit Organization Management
Company size: 51-200 Employees
Used

Daily

for

1+ year

Review Source
---
Excellent ITSM tool
Solarwind Service Desk has met all of our requirements. It is easy to use and follows ITIL best practises.
Pros
Ease of use and customisation. Customer services
Cons
Reporting is limited. Even customisation in reporting is limited
Reasons for Choosing SolarWinds Service Desk
Price and lack of ITIL support
Reasons for Switching to SolarWinds Service Desk
Price, Ease of use and customisation, Customer services