About EZOfficeInventory
EZOfficeInventory is a dynamic asset and maintenance management solution tailored for companies of all sizes. The cloud-based software works as you do and is accessible from anywhere and at any time. Track items across locations and departments, scan barcodes right from your phone, streamline item maintenance to boost functionality, maintain optimized stock levels at all times, and manage all your users and vendors with one solution. The inventory management module enables users to track inventory levels with QR codes and barcode tags. EZOfficeInventory features a mobile app with barcode and QR code scanning functionality, so you can track your inventory wherever you may be. GPS tracking enables users to track item locations so users can monitor their assets on an interactive map and identify lost or misplaced assets. The solution offers a REST-based API that integrates with other REST-based systems. Customized reporting and dashboards help users track and monitor assets. Users are able to analyze historical inventory data and make decisions regarding their inventory management practices. The solution also integrates with third-party applications such as Zendesk, Jira, Dropbox, Active Directory, and OneLogin. EZOfficeInventory offers both monthly and annual subscriptions that include support via phone, email and through an online knowledge base.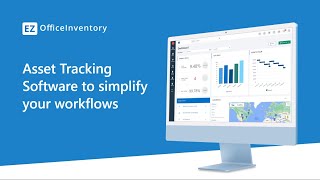 EZOfficeInventory pricing
EZOfficeInventory does not have a free version but does offer a free trial. EZOfficeInventory paid version starts at US$35.00/month.
Starting Price:
US$35.00/month
Pricing Details:
Essential (Starting from $35) Advanced (Starting from $45) Premium (Starting from $50) Enterprise (Custom) Save 10% on Annual Plan We offer special discounts for all 501(c)(3) organizations. This includes all Non Profit and Educational Institutions. More Details https://www.ezofficeinventory.com/pricing
Alternatives to EZOfficeInventory
EZOfficeInventory Reviews for UK Users
Company size: 51-200 Employees
Used

Daily

for

1-5 months

Review Source
---
Very easy to use and understand. Great user interface. Editing is a breeze!
This software is taking me from several huge spreadsheets and no photos to a streamlined, searchable, history tracking, photo attached inventory system. No longer do I have to track multiple files and spreadsheets. It is all in one place.
Pros
It is FAST and very simple to use. I can change records so easily if I need to correct or edit anything. Adding custom fields is great for unique data. Searching is with the ability to search multiple terms at once. Filtering allows me to further 'drill down'. The three different types of items make it simple to separate company owned, client owned and disposable inventory. Adding photos and other documents is also very easy. Managing photos is fairly simple, but see 'cons' below. User permission has a very deep control mechanism allowing viewability to be finely tuned and managed as needed. The cart feature is awesome for checking out multiple items at once. You can then check in the same cart for fast returns. Searching with the mobile app via text, or scanning QR codes is blazing fast. Zero time is wasted waiting on EZO. Any lag is all on me. I use this software to track items in a photo studio, the things that belong to our clients that we are photographing. As such, we must isolate those items so that there is no client crossover. This works great!
Cons
As of this writing (5/2018) the view is not 'responsive' to your screen size. It is also not possible to manually resize column widths. Some views allow you to hide the right sidebar while others do not. This is promised to be an updated feature coming in 7/2018. When interacting with individual records after a search, it is not possible to return to the search results. The search must be repeated. There is no feature to create shelf barcode or QR code labels. Must use external software, but you can easily link those, one by one.
Industry: Health, Wellness & Fitness
Company size: 1,001-5,000 Employees
Used

Monthly

for

2+ years

Review Source
---
Easy Peasy from an end user's perspective
I am an end user of it (not an asset manager/admin). I have to spend barely any time using it, which is a good thing.
Pros
- I like that it emails me when someone changes something on my account. This item was checked out for you. This item was marked as returned. That sort of thing.
- I've had no training on how to use it and have had no trouble doing what I've needed to do. It's intuitive.
Cons
I have not had any complaints about it in the 2+ years we've been using it.
Industry: E-Learning
Company size: 10,000+ Employees
Used

Monthly

for

1-5 months

Review Source
---
Good space to keep asset details
Pros
It allows us to have a digital list of all the assets and serial numbers as well as book them out which helps manage equipment.
Cons
Locations section often doesn't load on dashboard and the user interface is quite basic.
Response from

EZOfficeInventory

Thank you for your feedback. We have noted your feedback and have escalated it to the concerned department. Could you please reach out to [email protected] regarding this? Our customer success team would be glad to help you.

Replied 10/06/2022
Industry: Construction
Company size: 51-200 Employees
Used

Daily

for

2+ years

Review Source
---
EZ to use
We are starting to expand our use of EZOffice, and will look for help/training in doing so.
Pros
The feature that our company benefits most from is the "check in/check out" feature. With thousands of dollars in assets this software makes it easy to see what employee has what asset(s) in their possession.
Cons
The mobile software has a button that can be hit which logs people out immediately. A lot of our employees forget their user name and password which causes headaches.
Response from

EZOfficeInventory

Hi Jeremy,

Thank you for your feedback. Please email us at [email protected] with any queries or suggestions you may have. We are constantly updating our mobile application to make it a better user experience for you and would hopefully be able sort this issue out in the future.

Replied 10/06/2022
Industry: Financial Services
Company size: 1,001-5,000 Employees
Used

Daily

for

1-5 months

Review Source
---
Very good product at an incredible cost
Good application that is dedicated to what it says in its advertising and the integration with Google Workspace and Zendesk is perfect.
Pros
is a very user-friendly software with a very intuitive interface that adapts to the particular needs of each user.
The reporting module is very powerful to have metrics in real time.
Cons
At startup I had problems with the integration with Google Workspace, but I raised a ticket and it was solved soon after, the truth is that their support until the problem was not solved was always attentive to the progress of the problems and follow up.
Response from

EZOfficeInventory

Thank you so much for your positive feedback. Our support team is always happy and eager to help you. If you ever have any concerns/queries, please email us at [email protected] We would love to help!

Replied 10/06/2022