About Genius ERP
Genius Solutions delivers a complete enterprise resource planning (ERP) solution, including software, implementation services, and field expertise for small to mid-sized custom manufacturers across the US and Canada. Genius ERP is built for SME manufacturers handling make-to-order, engineer-to-order, custom-to-order, and assemble-to-order manufacturing. Genius ERP provides custom manufacturers with the tools they need to reduce costs, increase productivity, and improve the performance of production sites, including CRM, inventory management, product engineering, job costing, account management, scheduling, production planning, and accounting. Every tool is incorporated into one centralized, easy to use system, ready out-of-the-box for custom manufacturers. Automate time-consuming steps, quote for more jobs, estimate with greater accuracy, reduce bottlenecks on the shop floor, and connect historical data to upcoming runs to optimize production. Genius ERP was designed specifically for custom manufacturers by industry experts. From design to delivery, Genius ERP helps manufacturers achieve increased throughput without hiring new staff or expanding operations. Manufacturers can handle more jobs and take on new customers while avoiding bottlenecks, stalled projects, and supply overstock. Genius ERP: one system that helps simplify complex manufacturing.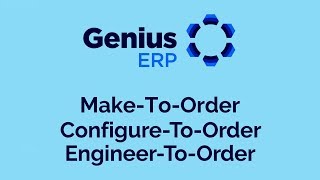 Genius ERP does not have a free version.
Starting Price:
Not provided by vendor
Alternatives to Genius ERP
Genius ERP Reviews for UK Users
Industry: Mining & Metals
Company size: 51-200 Employees
Used

Daily

for

1+ year

Review Source
---
Genius ERP - Medium Sized Manufacturer Review
The business issue we needed to solve was the individual software silos that we had to perform a total process. It was fragmented and time consuming to move data through the individual systems. Genius helped us solve the problem quickly and efficiently. Their support group is industry leading!
Pros
Genius ERP is a very comprehensive, module based solution. It integrated our time keeping requirements for production, our Engineering drawings, the Estimating and Quoting functions, Purchasing, and Accounting. It truly is enterprise wide software. It is a very logical interface to understand, and integrates well with our Payroll platform.
Cons
If there was a Payroll option, it would be complete! We needed to customize reports for our environment, which was understandable, but outside the initial project scope.
Response from

Genius Solutions

Hi Jamieson,

it's great to hear that Genius ERP is working out for you and that you have been able to integrate your business I'm also glad that you find our custom support team to be very helpful. I'll pass your wish for a payroll module onto our development team. Thanks for taking the time to leave a review, I really appreciate it. - Jesse Linklater, Genius ERP

Replied 25/05/2020
Industry: Electrical/Electronic Manufacturing
Company size: 11-50 Employees
Used

Daily

for

6-12 months

Review Source
---
Genius ERP_great product for the money
Our company has seen many tasks that were being duplicated in various spreadsheets eliminated. All the data needed by any department is now in one place - quoting, sales, production, inventory management. All the users can see what relates to their department and share easily with others. We are still "new" to Genius, only 8 months in. We still have many things we have not had a chance to learn or put into practice but each week we are finding new ways to save time and improve our results.
Pros
Genius has many features we selected it for. It allows customizable BOMs that can continually be updated throughout the build by the engineering team. The Lifecycle engineering feature was core to our selecting the product. It has the flexibility to allow preliminary material buys before the design is complete, and still track these to the job. The material planning and control features are also easy to use and offer flexible solutions.
We integrated Genius into our business in about 8 weeks. They provide a full team of support to help get it up and running! Their support team contiues to be there when needed.
Cons
If anything is a bit weak in Genius it is the integrated accounting module. It is not as user friendly as our previous system ( QB). The trade-off though of being able to see live job or order costs outweigh any other concerns. All new products take time to get used to.
Response from

Genius Solutions

Hi Donnalyn, Thank you so much for this review! It's great to hear that in the short time you have been using our ERP it has been working really well for you we look forward to a long partnership with you!

Replied 08/10/2020
Industry: Mining & Metals
Review Source
---
You have to pay for everything all thetime; Very poor customer service
Pros
It is customizable; Quite powerful with enough work. They basically give you a software that is almost useless and then you tell them how you want reports to look, etc and then they program it for you. Since reports and even macros (automatically attaching drawings to items/WO/POs, etc) can be custom programmed it gives you great flexibility and power.
Cons
Hard to tell what I like the least; And I don't like saying bad things about any company but for the sake of others I'd like to share our experience and hopefully save others the headaches and money we've lost.
Everything runs on modules and unlike almost every other program I've ever tried, each window takes from 5-8 seconds to open. Everything seems very slow!
The vendor sucks money every step of the way. We average about double the amount on maintenance and update fees then we already pay for a yearly subscription so we can get the "free updates". It is ridiculous. You pay them (annual subscription) so you are allowed to get updates for "free" but you have to pay them for installing those updates. For real, why not make a program so the customer can help themselves? Because they want the money; their business survives on training and hourly wage working for/with the customer. (I'm not saying it's wrong - but that's the only way they make money!)
Industry: Wholesale
Company size: 51-200 Employees
Used

Daily

for

1-5 months

Review Source
---
Genius ERP Review
The implementation team has been very helpful and informative in getting the system configured to go live.
Pros
We like the ability of this software to be able to handle custom BOM's that we use in our manufacturing processes. This allows us to load BOM's to the system and manage our manufacturing for each course.
Cons
Nothing at this time. The software is meeting the requirements that we anticipated.
Industry: Design
Company size: 51-200 Employees
Used

Daily

for

6-12 months

Review Source
---
Genius Review
Pros
The team that helped us implement the software helped us customize the software to fit our company and best industry practices. We are really happy with the work flow of this software.
Cons
Integration was easy and the flow is great. I do wish the software had the ability to allow at lease an administrator to delete or Undo transactions that were accidentally confirmed or the ability to at lease minimally edit confirmed transactions (Dates, Text, different fields, ETC.)
Response from

Genius Solutions

Hi Christian, Glad to hear that the switch to Genius from Quickbooks is working out for you! Thanks for leaving us a review!

Replied 08/10/2020