About ZenHub
Zenhub is an industry-leading project management and productivity platform best suited for software-led startups and scaleups with agile software development teams. Open-source projects and high-growth companies who manage code in GitHub leverage Zenhub to build and ship better code faster. Zenhub connects the dots across all teams with automated agile features, real-time roadmap visibility, and team productivity insights by providing an extra layer of organization, transparency, and collaboration beyond what GitHub offers. Zenhub facilitates agile ceremonies (sprints, epics, estimates) and processes within GitHub and helps teams manage projects with less overhead and interruptions that lead to context-switching. Zenhub's unified workflows, visualization tools, and roadmaps improve communication and alignment between developers and business stakeholders, enabling asynchronous work and reducing the need for meetings. Software-centric organizations use Zenhub's unified view of a project's progress to stay aligned and work towards a common goal. Zenhub's workflow automation includes automated sprint planning and hand-offs and asynchronous and effortless estimations through Planning Poker. Zenhub helps development teams maintain focus, improve velocity, and ship projects in scope and on time by automating mundane, repetitive tasks. Zenhub's comprehensive suite of reports includes velocity reports, burndown charts, control charts, cumulative flow, release reports, and others. Using a team's historical data and productivity metrics benchmarks, Zenhub derives insights on the average cycle time, anomalies, sprint progress, and development team's velocity. When used in tandem with pre-configured reports, productivity insights can be a powerful tool for organizations to see their software development team's productivity metrics at a glance. Zenhub is flexible and competitively priced to help teams stay within scope and budget. With a choice of interfaces — web app and browser extension — and zero-config, Zenhub simplifies the onboarding process for development teams.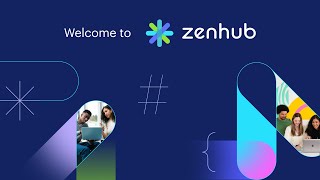 ZenHub has a free version and offers a free trial. ZenHub paid version starts at US$8.33/month.
ZenHub Reviews for UK Users
Industry: Computer Software
Company size: 11-50 Employees
Used

Daily

for

6-12 months

Review Source
---
The only solution for teams that depend on GitHub
We started using it in our dev teams (most of the company), but it worked so well, that we extended its use to Marketing, Finance and HR. We even created empty repos in GitHub, so that those teams can have their own boards. The cost is reasonable and we ended up with a powerful collaboration tool on shared artifacts (GitHub) and a basic, but sufficient task/project management tool (ZenHub).
We even cancelled our Aha! Subscription, because we had simple product needs and the Roadmap feature, in combination with epics was enough for us.
Pros
Ingenious way to bypass the issue of GitHub's poor API and data model, that makes it practically impossible for any integration to offer true value, with minimal overhead. It has just enough features to make our life easy, with minimal overhead.
Cons
Sometimes (rarely) updates may get lost, when done via ZenHub.
You do need to open the GitHub project occasionally, as you don't have exactly the same ability to modify issues and milestones from within ZenHub.
Reasons for Switching to ZenHub
None of them solved much at all, for a company that relies so much on GitHub. With ZenHub we don't have to worry about issue duplication, manual overhead, issues with bidirectional synchronization, integrations only with PRs, looking for the source of truth and many more issues I identified during the evaluation/selection process.
Industry: Information Technology & Services
Company size: 51-200 Employees
Used

Daily

for

1-5 months

Review Source
---
Nice connection to github
We use ZenHub to represent our backlog and workflow. It has epics and individual issues on the board.
Pros
It has the same product management column set up that most PM tools have. One advantage I've seen over other PM softwares is that you can put epics in other epics. This allows you to put multiple epics into one epic to represent a bigger piece of work.
Cons
I don't like that it's limited to kanban. You can't have different boards for teams within your repo (or I haven't figured out how) so you're all working off the same board. There aren't specific boards for sprints so you could set up columns to represent your sprint but it's not as easy as something like Jira.
Response from

ZenHub

Hello,

Thank you for the kind words and feedback on ZenHub. You mentioned having a hard time setting up multiple board views on the same GitHub Repo and wanted to help.

We recently launched ZenHub Workspaces which gives different teams the ability to customize their board view when working from the same set of GitHub Repositories.

Here's how to set up your first Workspace:
https://help.zenhub.com/support/solutions/articles/43000497224-creating-your-first-workspace

If you run into any trouble please feel free to reach out to support or myself at any time ([email protected]).

Thank you for being a ZenHub customer!

Replied 18/09/2019
Industry: Health, Wellness & Fitness
Company size: 2-10 Employees
Used

Daily

for

2+ years

Review Source
---
Integrate ZenHub With GitHub Now
Great experience. Definitely suggest other companies to try ZenHub.
Pros
Seamless integration with GitHub makes this product a no brained for our team!
Cons
Product can be slow but also may be due to the size of our boards.
Industry: Computer & Network Security
Company size: 501-1,000 Employees
Used

Daily

for

2+ years

Review Source
---
ZenHub: the successful GitHub Project Management Plugin
Very good addition to the great GitHub CVS
Pros
The project scheduling and management features are very advanced and sometimes surpassing leading project management software on the market. It is compatible with GitHub and hence is oriented towards software projects. The enterprise version provides a rich collection of collaborative tools for developers which adds to those available in GitHub. Tasks can be created and maintained very flexibly with very intuitive GUI interaction. Being the project management missing part in GitHub, ZenHub is a perfect synergy for collaborative project management for large scale software projects. Tracking software issues and bugs is very facilitated as well. But again we rely on GitHub to do such management tasks.
Cons
The price is a bit high for large scale projects. A more flexible licensing strategy could be more appealing. Some GUI bugs show here and there but the developers are very actively responding to bug reports.
Industry: Computer Software
Company size: 51-200 Employees
Used

Daily

for

1+ year

Review Source
---
A rich layer ontop of GitHub issues
My experience with ZenHub was great, I have tried other tools to see if they could do better, but stayed with ZenHub in the end.
Pros
Integration with GitHub is awesome. Kanban works great and both Epics and Stories are very well developed features. It has all one could expect from a tool to manage tickets in an agile fashion.
Cons
The UI is sometimes not ideal, for example you might click out of a sidebar/modal thinking it saved your changes but it doesn't. Once you get used to it it's not a major issue, but comes back at every estimate session.