About Spendesk
Spendesk is a cloud-based spend management solution designed to help businesses handle invoices, approval processes, expense reimbursements, virtual debit cards and more. The platform uses optical character recognition (OCR) technology to scan submitted invoices and lets professionals store transactions or receipts in a centralized repository. Key features of Spendesk include payment reconciliation, data visualization, multiple currencies and real-time reports. Organizations can set up individual spending limits for staff members and view corporate purchase history including an audit trail of approvals, requests, reviews or exports on a unified platform. Additionally, employees can use its Google Chrome extension to request funds and pay for orders on the merchant's website. Spendesk facilitates integration with various third-party systems such as Slack, Xero, Datev, NetSuite and more. The product is available on monthly subscriptions and support is extended via FAQs, live chat and documentation.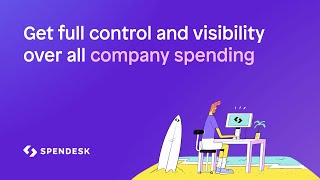 Spendesk does not have a free version but does offer a free trial.
Spendesk Reviews for UK Users
Industry: Computer Hardware
Company size: 51-200 Employees
Used

Daily

for

6-12 months

Review Source
---
Great efficiency tool for small companies
Pros
It greatly improves the purchasing workflow, all the way through to payments and accounting. It decentralises purchasing, while keeping control of the whole process with the decision makers. It's very intuitive to use - I never have to train new employees on Spendesk. The customer support level is the best I've ever seen, and they are constantly adding new features and improving the existing ones.
Cons
It costs money. But compared to the employee time saved by using it, as well as the added value compared to manual processes, it's money very well spent.
Response from

Spendesk

Thank you Mark for your kind review. We are really happy to free you and your team from the hassle of paying at work!

Replied 28/11/2018
Industry: Insurance
Company size: 11-50 Employees
Used

Weekly

for

6-12 months

Review Source
---
Spendesk, l'incontournable de la digitalisation des notes de frais !
Pros
J'apprécie la simplicité d'utilisation et le caractère intuitif de la solution.
La soumission en quelques clics de factures est très souple, de même pour les notes de frais.
La possibilité de créer des abonnements, de ne plus avancer de frais pour l'entreprise remplit complètement l'objectif premier de notre recours à Spendesk !
Cons
Les extractions des écritures comptables ne nous permettent pas encore une intégration automatique dans notre logiciel de comptabilité.
Response from

Spendesk

Bonjour Julie,

Merci beaucoup d'avoir pris le temps de nous laisser un avis, il sera tres utile aux autres entreprises a la recherche d'une solution comme la notre.
Nous sommes ravis que Spendesk reponde a vos besoins, et que nos equipes vous aient accompagnee au mieux.
Notre equipe produit travaille a ameliorer l'experience comptable et les exports afin que vous puissiez integrer vos ecritures comptables encore plus facilement. Vous serez tenue informee des nouveautes.
Merci encore.

A bientot,
L'equipe Spendesk

Replied 21/05/2021
Industry: E-Learning
Company size: 201-500 Employees
Used

Weekly

for

1-5 months

Review Source
---
Improvements
Paying all over the US when travelling. Helps with keeping track of company expenses.
Pros
Easy to mangae/upload your receipts when you are travelling.
Cons
-Spendesk card doesn't work in many places (Trader Joe's for example)
-With the app you can only take photos from receipts. It would be a great improvement if you could make a photo that recognizes the receipt (adapts the borders automatically) and that converts it to a pdf.
Response from

Spendesk

Dear Ferdinand, thank you for your review. The good news is our new mobile app will be launching soon, and includes a new feature to automatically crop receipt photos. Sorry to hear about the issues you had overseas, we've passed your comments on to our product team to investigate further.

Replied 19/06/2019
Industry: Animation
Company size: 11-50 Employees
Used

Daily

for

1+ year

Review Source
---
Satisfait !
Très satisfaisante même si certains problèmes de paiement impactent les équipes
Pros
Facile à mettre en place
Efficace
Simple d'utilisation
Cons
Parfois les paiements carte sont refusés par certains TPE en France
Response from

Spendesk

Bonjour Ulrich,
Merci d'avoir pris le temps de nous laisser un avis.
Nous sommes ravis de savoir que vous etes satisfait de Spendesk et de notre service. Nous ne manquerons pas de partager ce commentaire a notre service client !
Nos equipes produit et technique prennent tous ces retours tres a coeur et nous faisons le maximum pour que nos cartes soient acceptees chez l'ensemble des marchands.

Merci encore.

A bientot,
L'equipe Spendesk

Replied 21/05/2021
Industry: Insurance
Company size: 201-500 Employees
Used

Monthly

for

1+ year

Review Source
---
innovant et simple d'utilisation
Rapide à mettre en place, le paramétrage étant complétement à la main de l'administrateur.
Les cartes de paiement virtuelles répondent à notre volonté de minimiser les avances de frais par les collaborateurs sans pour autant avoir à mettre des moyens de paiements type cartes bleues à destination de tous.
Complétement adapté aux différents cas d'usages que nous pouvons rencontrer au quotidien.
- Paiement régulier
- paiement ponctuel
- remboursement des frais kilométriques
Pros
Les différentes options de paiement adaptées aux différents profils des utilisateurs.
La simplicité de prise en mains pour les utilisateurs
Cons
les fonctionnalités comptables pas complétement adaptées aux spécificités de l'entreprise.
Complexité pour dupliquer notre environnement comptable et intégrer les écritures à notre ERP
Response from

Spendesk

Bonjour Anastasia,
Merci d'avoir pris le temps de nous laisser un avis et de le partager a d'autres equipes a la recherche de solutions.

Nous sommes ravis que Spendesk vous apporte de la valeur.
Nous travaillons a ameliorer les exports comptables et l'experience comptable afin de nous integrer parfaitement a votre environnement comptable. Nos equipes vous tiendront informee comme toujours des nouveautes disponibles !

A bientot,
L'equipe Spendesk

Replied 21/05/2021