About HubSpot Sales Hub
Supercharge your sales process with Sales Hub, a powerful and easy to use sales CRM that includes sales engagement tools, configure-price-quote (CPQ) functionality, and robust sales analytics and reporting for growing teams. Optimize your sales process with HubSpot CRM. Achieve total visibility with sales analytics and reporting. Streamline your outreach with sales engagement tools. Close more deals faster with configure-price-quote (CPQ) functionality. Sales Hub is built on the HubSpot Growth Platform, where you can bring your customer data, tools, and teams together in one central system of record. You can connect the tools you use with Sales Hub with over 500 apps in the HubSpot App Marketplace, APIs, and solutions partners. Sales Hub is made for growing teams and offers four editions to help those looking to get started or who are growing rapidly. Get started with Sales Hub Free, Sales Hub Starter, Sales Hub Professional, or Sales Hub Enterprise. You shouldn't have to outgrow your CRM -- HubSpot has got you covered at every step of the way.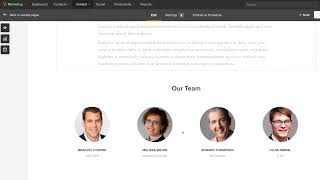 HubSpot Sales Hub pricing
HubSpot Sales Hub has a free version and offers a free trial. HubSpot Sales Hub paid version starts at US$50.00/month.
Starting Price:
US$50.00/month
Alternatives to HubSpot Sales Hub
HubSpot Sales Hub Reviews for UK Users
Industry: Market Research
Company size: 2-10 Employees
Used

Weekly

for

6-12 months

Review Source
---
Wish we had started using Hubspot earlier
I wish I had moved from our previous tool (Streak) before. Hubspot is intuitive, just works and it generates good results.
Pros
1) Grows with you
Although it offers a gazillion features and possibilities, just like Facebook, it just grows with you and how you use it. I tend to discover some additional possibilities along the way, even after +6 months of using it, but it always gets better for my use cases.
2) Easy sequences & follow-up
The sequences in Hubspot just work. Once set up - which is easy - I can add users one by one, tailor the message a bit and send out. Every mail sent is a mail I otherwise would have not gotten the time for to send it and just gives back results. It's more a sequence praise than Hubspot per se, but Hubspot's approach just works for me.
3) All-in-one
The fact that the landing pages can be created very easily, that you can send marketing emails, have chat on your website etc is a major plus.
4) Community
The fact they are big makes for a slew of Fiverr guys ready to help me out when in need.
Cons
1) Only community
Although I consider the fact they have a large community as a plus, the fact that you sometimes have to rely on the community to upvote features makes that my 'personal' impact on the roadmap is low. Even with a lot of upvotes there is no guarantee that Hubspot will alter the product.
2) Constant changes in pricing & feature lists
I have recommended others to use Hubspot for their features in a specific pack I use. However, pricing & features change so I sometimes mistakenly try to get people on board whilst pricing has gone up or features are missing for the acceptable pricing.
3) The neverending upsell
It makes sense that with more needs, more tools can be of assitance. But in Hubspot's case, there is a lot where we can still grow and where they can still charge me more. An acceptable all-in-one pricing would be welcome, because for now I do not use some features because of the big pricing gap.
Industry: Information Technology & Services
Company size: 501-1,000 Employees
Used

Daily

for

1+ year

Review Source
---
HubSpot - If you're using another CRM, check this one out
While none of the team evaluating HubSpot when we were looking to upgrade our CRM a few years ago, had experience with the product, we were impressed with the user interface, features and functionality offered. We needed to be sure we could easily onboard our sales team and make the transition to this system as easy as possible while providing business value. Integration with our instance of the HubSpot Marketing Hub allows for seamless lead flow from our website, management of leads and deals, tracking of touches whether by email, phone or manual tasks provides us with the ability to ensure follow up with new prospects and current customers.
Pros
While there are many key aspects of HubSpot we find critical, one of the, if not the most critical is the ability to have our HubSpot Sales Hub linked and aligned with our Marketing Hub. We started with the Sales Hub first and the marketing team soon found value in adding the HubSpot Marketing Hub so we have end to end integration allowing smoother demand generation, lead flow and tracking.
Cons
Honestly it is difficult to find a con that is a result of what HubSpot offers. We use NetSuite as our ERP for finance and had to work with a 3rd party vendor on a complicated integration between the two that we need to actively monitor as there will be a few instances each month of syncing not going through for a few deals that will result in a needed adjustment.
Industry: Legal Services
Company size: 11-50 Employees
Used

Daily

for

2+ years

Review Source
---
Awesome product, absolutely terrible onboarding experience
HubSpot Sales Hub is a great platform, but their onboarding process is probably the worst I've experienced from a SaaS provider. So I'd advise you against using the software if you want their help in getting the software up and running quickly.
Pros
Ease of use and automation capabilities.
Cons
The onboarding experience. They insist on charging for onboarding support, but don't really give you the support you need and completely lack ownership over the process.
Industry: Renewables & Environment
Company size: 51-200 Employees
Used

Daily

for

1+ year

Review Source
---
Simple and Robust CRM
We use Hubspot for multiple things. However, for a CRM system, it's much easier to use and teach than most other CRM systems. I think for sales reps, it's simple enough to use and it's helpful to have the marketing tools partnered with it that are simple.
Pros
I personally prefer Hubspot for Sales over marketing any day. For a CRM it's much more user-friendly than that of Salesforce or Sugar. It's easy to connect to your emails to track progress of leads and if you really dive into it, then there's a lot of features to make your overall sales process easier like workflows, segmented lists, etc.
Cons
Uploading documents can get lost in deals, contact, or company. If you're missing a contact for a company, things can get messy. They also do a lot of updates which causes the site to crash a lot.
Industry: Chemicals
Company size: 2-10 Employees
Used

Daily

for

Free Trial

Review Source
---
Happy CRMing
For the Free cost it excellent. When business picks up I will buy into the payable version. Not invoicing any one right now. It been over 4 months with NO INCOME!!!
Pros
Ease of use and great interface and how it integrates with other software i.e. Freshbooks
Cons
Text messaging is a huge part of our business and having to add texting is labor-intensive. When setting a new task. It doesn't create the next step in the sales process