About Hootsuite
Hootsuite is a cloud-based reputation management and social-media solution for organizations and businesses to collaboratively carry out campaigns across various social networks such as Google+, LinkedIn, Facebook and Twitter. It lets users launch campaigns from a single dashboard. Hootsuite offers various functionalities for measurement and reporting purposes, such as tools for team collaboration, audience engagement, analytics and account security. This solution is suitable for businesses of all sizes. Hootsuite allows users to manage several contributors and share data and access rights without the sharing of passwords. Users can work with social streams, columns and tabs along with an option of selecting from various design themes. In Hootsuite, messages can be delegated to the team and their progress can be monitored. Additionally, users can select the date and time that messages will be sent out. The use of brand and industry terms can be tracked to gather more intelligence and prepare analytics reports. Hootsuite offers services on a monthly subscription basis that includes support via email and through online resources.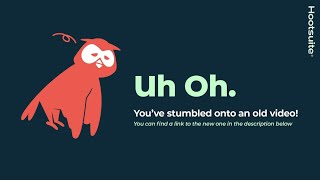 Hootsuite has a free version and offers a free trial. Hootsuite paid version starts at US$49.00/month.
Starting Price:
US$49.00/month
Alternatives to Hootsuite
Hootsuite Reviews for UK Users
Industry: Entertainment
Company size: Self Employed
Used

Weekly

for

1+ year

Review Source
---
Impressive free plan
Overall, I'm satisfied with Hootsuite and will continue to use this platform to manage my social media accounts. With the ability to schedule up to 30 posts on the free plan, including scheduling Instagram posts, and viewing different social media accounts all on one dashboard, it beats other social media management platforms that require plan upgrades to access similar features.
Pros
As someone who uses Hootsuite's "Free" plan, I'm incredibly impressed by what Hootsuite offers in the plan. My favorite tool on Hootsuite is the "Streams." I can sort scheduled posts, past posts, mentions, and followers' posts by social media platform using "Streams" on my dashboard. This allows me to see responses or comments on my posts and engage with followers, without having to visit several social media sites. With the free version, I can also schedule more posts on social media than other social media management programs, and the free plan allows me to schedule posts on my business Instagram account.
Cons
"Free plan" users who are needing advanced features beyond basic analytics will need to upgrade and if they shorten links using TinyUrl or Bitly, there isn't a meaningful way to track engagement in the program. Also, users need to be aware that the connections between Hootsuite and social media networks frequently drop, and that the program's connection with Instagram is frequently buggy.
Industry: Food Production
Company size: Self Employed
Used

Daily

for

6-12 months

Review Source
---
Hootsuit will help you grow your social media following
My overall experience with Hootsuit is great, already seeing my followers list grow both personally and for my business. I don't think I could've been managing my social media any better than the job Hootsuit is doing. I'm satisfied.
Pros
What I love most about hootsuit is their free plan. Not many social media management platform gives so much to offer with their free plan. You can schedule both Twitter and Instagram post among others while using different social media all at once which they provide on one dashboard. I have a Twitter page and Instagram page for my business and hootsuit free plan allows me to schedule posts. What service I find best for me is how hootsuit analyzes the social media results in terms of tractions and interactions which shows the impact on my brand.
Cons
As much as this feature is helpful, it's also at a disadvantage as well. The dashboard feature in terms of layout could be much better. Everything seems to be thrown together and clustered up.
Industry: Entertainment
Company size: 2-10 Employees
Used

Daily

for

6-12 months

Review Source
---
Mediocre at best
Where is the competition in the social media management software space? There has to be a better option than this?
Pros
I run a modeling and acting agency and I was posting between SC, IG, FB, Twitter and YT on a daily basis. Making it very hard to be away from my phone and risk missing prime posting opportunities and viral trends. I was looking for something that would schedule pre-selected posts, videos, pictures and adds. The best option online seemed to be Hootsuite. It was well marketed and seemed very user-friendly... at first.
It does indeed schedule your posts to various social media platforms, and it also allows for multiple streams of social media (i.e other business or personal accounts). That's a very handy feature!
Cons
The user interface is weak, it's not user-friendly nor is it practical or modern looking. It has a tendency to leg, it also isn't mobile friendly, they do have an app, but again it's not easy to navigate. Which is an absolute must when working on social media on the fly. When I created beautiful well-round posts and saved them to a posting schedule. I would check the posts after they had been released, via the online social media site, the posts would always turn out unformatted, with broken links and fuzzy low res images. I was overall very disappointed with this product. especially because it was so highly rated and not free. I felt like I kept putting in a lot of effort just to re-do all my work all the time.
Industry: Marketing & Advertising
Company size: 2-10 Employees
Used

Daily

for

2+ years

Review Source
---
Manage multiple social media accounts at reasonable prize, but analysis is over expensive
Pros
The dashboard is great to monitor multiple accounts at once, you can view different hashtags, words, mentions, brands or whatever you want at once in a single tab.
Very easy to use and learn just the basics.
Integration to web browsers and multi browsers.
Automated reports sent to email.
Cons
You need to pay to assemble the different charts, tables, graphs and parts of analysis by each report.
Not affordable if you want more team members.
Advanced features take a lot of effort to learn.
Targeting while posting is limited.
Industry: Apparel & Fashion
Company size: 2-10 Employees
Used

Daily

for

1-5 months

Review Source
---
Hootsuite the best social media management software
It was absolutely nice since beginning.
Pros
It's the one of the best software we ever used in the marketing and management. We keep track of all stats and analytics at one place.
Cons
It was pretty complete software and has all the functionalities we needed to track our results and ROI. It has no limitation at all.