About Genesys Cloud
Genesys Cloud creates fluid conversations across digital and voice channels in an easy, all-in-one interface. Designed to provide exceptional experiences for your customers and employees, it deploys quickly, is intuitive to use, and continuously innovates with upgrades each week. Genesys Cloud simplifies how you connect with customers by providing all the context you need to deliver more personalized experiences. The all-in-one application empowers your teams with an easy-to-use tool to boost performance. Real-time dashboards and up-to-the-second analytics provide the insights you need to run your business—no matter where your agents are located or which channels they handle. Build stronger relationships with your customers by employing the latest innovations in AI, digital channels, voice, and workforce engagement — and transform your contact center into an experience center.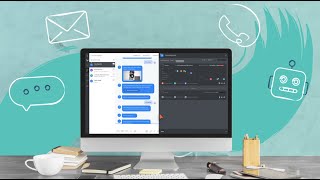 Genesys Cloud does not have a free version but does offer a free trial. Genesys Cloud paid version starts at US$75.00/month.
Starting Price:
US$75.00/month
Alternatives to Genesys Cloud
Genesys Cloud Reviews for UK Users
Industry: Airlines/Aviation
Company size: 201-500 Employees
Used

Daily

for

2+ years

Review Source
---
Feature Rich, easy to use Telephony Systemz
Genesys Cloud has been amazing for our company since moving across from PureConnect. In this new "Work from Home" world we live in, it has been a massive contributor and backbone to our strategy and has allowed us to continue operating successfully during the Covid period.
Pros
It is very easy to find my way around, make quick changes on the fly and administer from anywhere in the world. The amount of new features coming out weekly was also a huge selling point for us and watching the system grow and evolve has been fantastic.
Cons
I would like a few more fine-grained features such as being able to customize the hold experience per flow and being able to take some of the global features and making them IVR/queue based due to requirements of different brands that I manage.
Industry: Insurance
Company size: 1,001-5,000 Employees
Used

Daily

for

1+ year

Review Source
---
Genesys Cloud Implementation
Our overall experience has been good. We have built great relationships with Genesys support staff and other Genesys users. We have seen good movement with new capabilities since we moved over to the platform and have confidence that we will continue to be partners with Genesys to continue enhancing the product for years to come.
Pros
The fact that we could move all of our telephony (agents and non-agents) off of an on-premise solution and to the cloud in a very fast period of time was tremendous. The ability to shift all of the support out of IT and into the business has allowed us to optimize our customer's experience in a very agile manner. The buildout of each of the channels has been slow for us due to internal reasons, but we have many capabilities that we never had before moving to Genesys Cloud.
Cons
WEM and reporting are not ideal in Genesys Cloud. Genesys has continued to invest and enhance in these areas, but they have a way to go.
Pure Voice and how calls get routed through our virtual edges causes some issues from time to time. We rely on Genesys to help us dive into those issues so that we can understand what causes them and learn to optimize our processes to avoid them in the future. Going through some pains here has taught us a lot but the issues themselves aren't ideal.
There have been some data lags when we have tried to access our data through the UI or APIs. This happens more frequently than we would hope for and causes some issues with managing our agents/call centers.
Industry: Automotive
Company size: 51-200 Employees
Used

Daily

for

1+ year

Review Source
---
Not a Big Fan
Overall, my experience with this software is mostly negative and I don't know if I'd recommend it to other companies who are looking for a reliable piece of software they can use everyday.
Pros
Once you are familiar with the best way to search for calls and how to utilize a call page to get information then the software is easy enough to use. In terms of profile information for agents it works well. I think the Queue activity is a good function of the software and allows me to monitor the status of inbound calls easily enogh.
Cons
I feel like I get inaccurate info with this product. For instance, the duration of calls is never accurate (I mean never). Many times the agent who actually conducts the call does not appear on the list when searching for a call and the timeline can be inaccurate too (not all the time though).
My main issue with Purecloud's system is just how often it crashes. I rely on this system daily in order to monitor my agents and I will sometimes need to quickly jump into a call in order to gather info, only to ve given a message that the call data could nto be loaded. I may be understanding if this is the case for a call that JUST ended, but when it's a call from days ago then we have a problem.
Response from

Genesys

Thank you for sharing your experiences of using PureCloud and I'm sorry you have had some issues. We cannot contact you directly as you have posted anonymously but we really would like to connect to drill down further into the points you have highlighted and see what can be done to improve matters. Please contact me directly at [email protected] (Director of Customer Marketing) and I will be happy to escalate your issues. Thanks, Lara Booth

Replied 06/09/2018
Industry: Information Technology & Services
Company size: 501-1,000 Employees
Used

Daily

for

1+ year

Review Source
---
Genesys Cloud delivers
As we are still in the grip of a pandemic, using a cloud-based UC and CC solution, as Genesys Cloud, is invaluable to allow our people to work from home or anywhere with internet. As everyone is provided with a laptop and headset, we can guarantee 100% uptime of our Contact Center.
Pros
Combined with other solutions, it provides us with PCI Compliance, agent development and evaluations, work-from-anywhere, in-depth call routing via ACD and IVR, in-depth reporting and stats, scalability and resilience.
Cons
More ringtones needed - only one provided and it gets very irritating when in an office.
Email interactions function needs refining.
Industry: Consumer Services
Company size: 501-1,000 Employees
Used

Daily

for

2+ years

Review Source
---
G Cloud
Overall I've enjoyed the transition to Genesys Cloud, the uptake internally was/is very positive! G Cloud is not as "self sustaining" as we were lead to believe but as we move through the learning curve we see less struggle.
Pros
Everything inside G Cloud is very user friendly. The features and integrations that are available have helped our organization grow and develop to be more productive and innovative.
Cons
There are consistent updates to the back end, we are generally aware of when these will take place however the updates do (at times) cause our internal systems to fail. Specific configurations are not always playing nice with each other.