About LEAP
LEAP is the legal practice productivity solution designed to help small to mid-sized law firms improve efficiency, productivity, and profitability. LEAP leverages best-in-class technology to help law firms with practice management, legal accounting, document assembly and management, and legal publishing all in one integrated solution. With key features like pre-configured matter types, email and calendar management, automated court forms, instant time recording, legal billing, and trust accounting, LEAP helps lawyers run successful law firms. LEAP helps users save time and increase productivity. LEAP users get access to thousands of court forms that lawyers regularly use, in all areas of common law, at no additional cost. These forms can also be automatically populated with client and case information, helping you save time, stay compliant, and eliminate clerical and grammatical errors. The LEAP Mobile App scans documents directly to your electronic file, instantly records time on calls made from your cell to a client, and even allows you to draft and file a motion. Everything done on the mobile app is instantly synced across all your devices and to the central electronic file in LEAP. With a single login across all devices, your law firm staff will have access to the latest matter data, client information and files, anywhere, anytime. LEAP securely stores all of your data in the cloud. It is powered by Amazon Web Services and delivers a world-class solution with 99.99% uptime on all your devices. Adobe Acrobat Reader DC, Xero, Quickbooks Online, Microsoft 365, Zoom, and Microsoft Teams seamlessly integrate with LEAP giving you the power to work securely, streamline team collaboration, and continue using the systems already in your law firm. Switching to LEAP is easy. The LEAP support team is here to support you every step of the way. Get personalized training and support face-to-face, or, on-demand with LEAP University. Your staff will also have access to thousands of articles in the LEAP Knowledge Base or speak to us on live chat. LEAP helps lawyers run successful law firms. The LEAP legal practice productivity software solution and local support teams are available in the United States, Canada, Australia, United Kingdom and Ireland.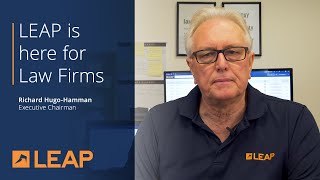 LEAP does not have a free version.
LEAP Reviews for UK Users
Industry: Law Practice
Company size: 11–50 Employees
Used

Daily

for

2+ years

Review Source
---
Fantastic Case Management System
It enables us to streamline all our cases, time management and billing.
Pros
From the outset I have found everything about Leap to be incredibly user friendly
Cons
Some of the bolt-ons look attractive but would increase our monthly expenditure beyond budget.
Reasons for Choosing LEAP
Cost and functionality.
Reasons for Switching to LEAP
Value for money.
Industry: Law Practice
Company size: 2–10 Employees
Used

Daily

for

1+ year

Review Source
---
LEAP Into Success!
It has changed my practice in so many ways. Even if there were a better software, this software has been a game changer for this firm.
Pros
My personal favorite attribute to this software is the technical support behind it. The helpdesk at LEAP is by far the most proficient, responsive, respectful, diligent, and most importantly, the helpdesk with the most overall proficient technicians responding. Every technician I have every worked with, and I ask questions to them almost as often as if they were in my office sitting with me, has a comprehensive knowledge of the entire software. If there has been a unique issue, they have always solved it within minutes. They are truly amazing.
My next favorite attribute is that the software becomes more useful and powerful with every piece of information you fill out. It requires the users to put the information into the system, but once it's there, what you can do with the information is where the dividends pay off. Clerks will spend far less time doing clerical work. Attorneys can draft better documents repeatedly in order to maximize time.
Next, is the document automation. It is continually being developed as we continue to work. Being able to generate large documents that can be used repeatedly at a substantial fee is a valuable asset.
I think my partner, who keeps our books, would say that the push over to Quickbooks feature is the best. It is timesaving and allows less room for error.
Cons
The accounting methodology is different from the US methodology causing a greater learning curve during the transition to LEAP.
Reasons for Choosing LEAP
We need software that required less in house tech support. We needed document automation. We needed a software that kept better financial records. We needed software that was more integrated with other types of applications. We needed LEAP!
Reasons for Switching to LEAP
First, LEAP started with their customer service from the very beginning whereas some of the other companies above just told me to watch their demo when I reached out. LEAP sent to very professional sales representatives out to see me and show me their product in person and answered my questions. This has not stopped since my purchase. It's just different people answering the questions. As far as features go, there was only one or two features another program had that LEAP did not and the LEAP had that the other did not. The Quickbooks integrations was a key feature as a small firm. Time is money. In summary, it came down to one or two features and the invaluable customer service they provide.
Response from

LEAP Legal Software

We appreciate your wonderful feedback on our customer support team, online intake, document automation, and strong integrations with QuickBooks Online. At LEAP, we value our customers and pride ourselves on offering individual attention from consultation to training. We look forward to continuing our effort to make LEAP legal software a valuable asset to your law firm.

Replied 14/04/2021
Industry: Law Practice
Company size: 2–10 Employees
Used

Daily

for

2+ years

Review Source
---
Leap overview
It's a good software if there's no alternative. Very expensive. Poor customer service overall.
Pros
Client account and month end reports. These provide an excellent tools for management to keep on top of Month End reporting and reconciliation reports. I also liked that you can send an email from within the software and it will open up and send from outlook.
Cons
Task management and time recording. Also customer service is poor as help is not readily available. When the software first took over LOLA, there was good customer service support but slowly that diminished.
Industry: Law Practice
Company size: Self Employed
Used for

2+ years

Review Source
---
Formerly TurboLaw Billing Software
I have a negative attitude towards Leap in general because they interfered with the "good thing" I had with TurboLaw. I had several long telephone calls with Leap representatives to review all the functions that Leap has to offer, and I found that it was always much more than I was looking for in software for my small firm. I was very disappointed when Leap purchased TurboLaw and drastically increased the price without any grandfathering for existing TurboLaw customers.
Pros
I really liked this billing system. I found that it was not overly complicated to use, and it had all the functionality I needed (plus some additional functions that I could have used, but didn't venture into). The billing software was previously TurboLaw before Leap purchased it, and the price was very reasonable for the product provided - reasonable monthly fee for relatively simple software base.
Cons
When Leap purchased TurboLaw they more than tripled the monthly fee after just a few months. At that point, I went searching for a new billing system because it was too expensive for my small firm, and in my opinion, too expensive for what it had to offer. As a solo practitioner, I did not need anything fancy or expansive, and unfortunately Leap took this option away from me when they purchased TurboLaw.
Response from

LEAP Legal Software

Thank you for reviewing LEAP. We provide features based on user feedback. We are cloud-based with features like billing, forms (incl. REBA/TurboLaw), and more. Visit community.leap.us for training resources.

Replied 27/01/2021
Industry: Law Practice
Company size: 2–10 Employees
Used

Weekly

for

1-5 months

Review Source
---
Transition team is absolutely useless
horrible
Pros
The software itself is great once you understand how to use all the featured
Cons
The transition team is absolutely horrible. You can ask what to expect but they do jot communicate clearly and most of their answers are I don't know. Expect that it will be two to three weeks after they capture your data before they actually upload it or are able to make your templates.
The initial training is arranged for someone with an IQ Of about three. click on the button that says open matter to open a new matter. That is literally five to ten minutes of a trainer talking. If you ask how to link your word documents to Leap the trainer won't know and then takes a month to get a response back to you. If you call tech support expect about the same level of knowledge. The templates are also incomplete. They have templates for adoption in Florida but not Oregon and once again no one can tell you how to make a custom template, even though the fields are there for Florida documents because you are in a different state you can't use them in your template.
Alternatives Considered
Clio
Reasons for Choosing LEAP
Online accessibility
Reasons for Switching to LEAP
Customization options that your sales team showed but your trainers don't know how to use
Response from

LEAP Legal Software

Thank you for taking the time to review LEAP. Our team welcomes all feedback so that we can continue to improve our software and implementations. We're glad to see that your firm is benefitting from LEAP's comprehensive practice management solution. However, we apologize that your installation experience was not up to par. Please email [email protected] to connect with your dedicated Practice Management Advisor as your law firm's fixed point of contact.

Replied 20/07/2021