About monday.com
monday.com, an award-winning collaboration and project management platform, helps teams plan together efficiently and execute complex projects to deliver results on time. monday.com team management and task management tool allows for ease of use and flexibility to onboard any team and manage multiple projects across the entire team. With a variety of productivity features such as time-tracking, an integrated kanban board, automated notifications, workflow automation, dependencies, multiple views and calendar integration, teams can achieve better and faster results for every project milestone. monday.com offers a collaborative environment that allows project members to communicate, create a knowledge base and share files, images, designs, and other specifications. With unlimited boards and an integrated timeline feature, users can effectively collaborate and track project progress and recurring tasks across multiple boards. monday.com can integrate with various third-party team collaboration and task management applications such as Google Drive, Dropbox, Pipedrive, Google Calendar, JIRA, MailChimp, and more. The system also lets users share specific information with external guests such as clients or freelancers. monday.com provides a REST JSON API tool, which lets users handle cross-origin resource sharing (CORS) requests. monday.com app is available for mobile devices via iOS and Android apps. Pricing is offered across 4 different plans: Basic Plan, Standard Plan, Pro Plan, and Enterprise. Support is available through an online knowledge base, video tutorials, or monday.com support team.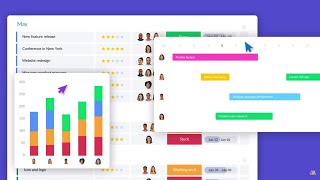 monday.com has a free version and offers a free trial. monday.com paid version starts at £22.00/month.
Pricing Details:
Starting from 22£/month/5 users. 42£/month/10 users. 64£/month/15 users... Simple, fair pricing that scales with your workforce. 14 days free trial, no credit card needed. 30-day money back guarantee.
View Pricing Plans
Alternatives to monday.com
monday.com Reviews for UK Users
Industry: Consumer Services
Company size: 2-10 Employees
Used

Weekly

for

6-12 months

Review Source
---
Monday.com - Great for 2 -3 People, Expensive for Anything Larger
Overall, If I really understood the costs upfront, I would have been more hesitant to transfer literally everything to Monday.com. I felt that it was kind of a hidden surprise and not in a good way. However, the project management for 2-3 people was incredible. I was moving at light speed, so much so that I needed to expand to more users. However, money doesn't grow on trees and I was ultimately stifled by the growing cost of each additional user. It definitely helped me organize all of my ideas into neat little boxes that could be expanded and tracked, which really gave me a birds eye view of my business.
Pros
At first, I loved Monday.com. The ease of use. The beautiful and simple design. I was enamored by every feature of this tool. Previously, I had notes jumbled on papers, in Apple Notes, and in Microsoft Excel. This was my solution to everything. I was able to transition all of my projects into one, sleek looking interface that inspired me to delve deeper into what was working about my company.
Cons
After the trial period ended, I realized the prices skyrocketed for adding multiple users. That totally sucked because I already transferred my entire digital life to Monday.com. 1 to 3 people was a do-able price for my small business. However, when I wanted to include 7 or 8 people, it was too cost prohibitive for the income that we were generating. Every penny matters when managing a business and this was the straw that broke the camels back for my utilization of Monday.com
Reasons for Choosing monday.com
The ease of use and absolutely gorgeous design. And how it perfectly mimicked the desktop version on my phone. I was blown away. None of the other tools were able to come even close to the integration that I was able to achieve on Monday.com
Reasons for Switching to monday.com
Monday.com was by far the most advanced tool and gave me all the features I was looking for in one easy to use interface. I was absolutely sold on it as soon as I really delved deeper into it. I found that I was able to run my business more effectively and initially had huge success implementing it.
Industry: Leisure, Travel & Tourism
Company size: 11-50 Employees
Used

Daily

for

6-12 months

Review Source
---
Monday - project management aims to simplify
As for interacting with the project and its tasks - it's very easy. Set status, assignee, dates, add items , etc. Notifications are great tool to stay on top of things , and my tasks screen is a life saver - you can see all your tasks without scrolling through long items in a project.
Pros
The UI is built with simplicity in mind. That means that almost every action is made to be easy and without to jump around many screens. Also, templating projects on Monday is one of the best features that we use to spin up new projects. Notifications are a great tool and you can have desktop notifications instead of mails to reduce clutter in your inbox.
Cons
Somehow the simple UI is not very intuitive for me. The rows display of items seems a bit off as opposed to the boards display. That also makes the screen seem full of tasks that usually irrelevant for some users.
Alternatives Considered
Jira
Reasons for Choosing monday.com
Azure DevOps is a great tool, though too complicated for our non technical members in the project.
Reasons for Switching to monday.com
Our teams loved the user interface. Also we got recommended from some of our customers who use it.
Industry: Staffing & Recruiting
Company size: 2-10 Employees
Used

Daily

for

6-12 months

Review Source
---
Confusing
Overall I would not use Monday. com again.
Pros
The alerts when someone completed or made changes were nice, however once you logged in to see the changes it was very confusing.
Cons
The layout is confusing and hard to follow the chain of events in each task.
Response from

monday.com

Thanks so much for taking the time to leave a review and for your feedback. We will let our team know.

Replied 06/05/2022
Industry: Legal Services
Company size: 501-1,000 Employees
Used

Daily

for

1+ year

Review Source
---
Monday.com Review
I use it on a day to day basis mainly for project management and it works extremely well. The automation and integration aspects make it an easy to use system that the team enjoys working with.
Pros
It is extremely easy to use and does all the project planning and management grunt work for you. It can also integrate with quite a few systems to automate processes like creating a ticket system for your IT that makes IT more engaging with the end user.
Cons
The biggest draw back is how you get to allocate users. You have to add in increments of 5 which leads to paying for users that you don't use. There are also some nice features that can only be accesses with a PRO license which is a bit pricey.
Reasons for Choosing monday.com
We needed something easier to use
Reasons for Switching to monday.com
It was friendlier to the end user and easier to use
Industry: Marketing & Advertising
Company size: 2-10 Employees
Used

Daily

for

2+ years

Review Source
---
No more spreadsheets!
Monday.com gives us the freedom to build online tools to manage all daily tasks in our business. The versatility makes it our weapon of choice.
Pros
Monday.com is like a customizable spreadsheet in the cloud. It's easy to build any project management sheet you need. Projects to work on, time tracking, internal training, you name it. Just add the column (like status, text, numbers, formulas, assigned people, etc.) and create groups that make sense to you. Automations save a lot of time doing repetitive project management tasks.
Cons
Subitems are still relatively new, so not all features are working properly yet. New features are being released often, but now I have to use regular items to keep track of time spent per employee.
Reasons for Choosing monday.com
When the team was growing, more and more problems arose when using Excel sheets, like duplicates, old files and a lot of time and effort to keep it look clean. Monday.com gives a more visual experience and drag and drop prevents data from being misplaced.
Reasons for Switching to monday.com
It feels more like the style we were familiair with, but without many of the downsides.