About ITEXIA
ITEXIA is a cloud-based inventory management software designed to help businesses of all sizes view, track, and manage assets across multiple locations via a unified portal. The platform includes user rights management functionality, which enables organizations to add or remove new users, assign role-based permissions, and revoke or provide access to assets using toggle options. ITEXIA allows enterprises to scan items and maintain records in a centralized repository for future reference using RFID solutions, industrial scanners, and mobile devices. It offers a host of features such as customizable fields, mobile access, asset count, automated data synchronization, and more. Administrators can also view assigned, available, and missing assets, edit details, and sort and search information using filters using the asset overview functionality. ITEXIA lets managers gain insights into metrics related to system status, inventory progress, intact assets, and modified items via a dashboard. It also supports integration with various third-party applications including Microsoft, Oracle, MACH, SAP, Infor, DATEV, and more to facilitate data import and export operations.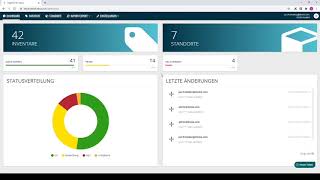 ITEXIA does not have a free version but does offer a free trial. ITEXIA paid version starts at €120.00/month.
ITEXIA Reviews for UK Users
Industry: Health, Wellness & Fitness
Company size: 51-200 Employees
Used

Monthly

for

2+ years

Review Source
---
Institut für Pathologie
Der Gesamteindruck ist für mich sehr gut. ITEXIA ist ein verlässlicher Partner, der auch nach der Installation einen guten Support bietet. Professionell war auch die Begleitung bei der Einführung der Software.
Pros
Die einfache Bedienung war uns sehr wichtig. Auch, dass die Felder und Menüs selber angepasst werden können. Zwingend war für uns, dass die Etiketten auf einem QR-Code oder RFID basieren. Die Software kann mehre Standorte verwalten und das Inventar auf Standorte und Räume referenziert werden. Sehr gut funktioniert auch die Inventur mit den ZEBRA Scannern oder es ich auch über eine APP mit dem Mobile möglich.
Cons
Ich vermisse den Zugang über die Active Directory, das solle jedoch noch folgen.
Response from

ITEXIA

Hallo Guido, Danke für dein ehrliches Feedback. Der Zugang zur Active Directory ist in Arbeit. Unser CSM-Team wird sich darum kümmern.

Wir freuen uns das euch unsere Lösung zur Inventar & Geräteverwaltung die Arbeit vereinfacht.

Viel Spaß beim Nutzen der Software.
Grüße vom ganzen ITEXIA-Team.

Replied 04/02/2022
Industry: Information Technology & Services
Company size: 51-200 Employees
Used

Weekly

for

6-12 months

Review Source
---
ITEXIA bietet uns genau die Inventarisierungsmöglichkeiten, die wir brauchen!
Da sich unser Inventar dynamisch verändert, können wir durch ITEXIA unser Inventar stets auf dem aktuellen Stand halten. Das erleichtert uns die Arbeit in vielerlei Hinsicht, aber auch unserer Steuerkanzlei.
Pros
Am Anfang jeder Inventarisierung steht die Inventur. Die ITEXIA Smartphone App erleichtert die Überführung in die Cloud. Einfach das Etikett auf das Produkt/den Artikel kleben, per App einscannen und fertig! Wer noch einen Schritt weiter gehen möchte, kann sein Inventar auch via RFID steuern.
Das Front End der ITEXIA-Cloud ermöglicht eine einfache und schnelle Navigation durch die einzelnen Menüpunkte. Die Kategorien und Kriterien sind in hohem Grade individuell anpassbar und ermöglichen sehr viel Flexibilität. Das hat uns sehr weitergeholfen! Man kann beim Start mit ITEXIA entweder diverse Voreinstellungen durch die Admins von ITEXIA vornehmen lassen oder selbst in Eigenarbeit die Strukturen vornehmen, die man für die eigene Unternehmung braucht. Was ich bisher gesehen habe, zeigt mir, dass ITEXIA durch den hohen Grad der Individualisierung für wahrscheinlich alle Branchenbereiche geeignet ist.
ITEXIA ist DATEV-Softwarepartner und bietet daher viele Integrations- und Synchronisationsmöglichkeiten zwischen Steuerkanzlei und Mandanten. Darüber hinaus werden auch andere Import- und Exportmöglichkeiten angeboten, wodurch auch reine Excelliebhaber auf ihre Kosten kommen. Wir begrüßen die vielfältigen Möglichkeiten.
Bei Problemen ist der ITEXIA Support stets für uns da. Die Antwortzeiten sind sehr schnell und erfolgen innerhalb weniger Minuten oder Stunden. Das wissen wir sehr zu schätzen!
Cons
Wenige male gab es kleine Probleme (fehlgeschlagene Synchronisation mit der Cloud oder Menuführung) mit der SmartphoneApp auf Android Basis. Das trübt das Bild allerdings kaum, zumal der Support stets zur Seite steht und diverse Lösungsmöglichkeiten anbietet.
Industry: Government Administration
Company size: 51-200 Employees
Used

Monthly

for

2+ years

Review Source
---
Gutes Produkt
Pros
Die verschiedenen Filteroptionen sind sehr gut
Cons
Die langsame Verarbeitung vom Scanner zum Rechner. Es kann aber auch daran liegen, dass wir einen alten Scanner haben.
Industry: Government Administration
Company size: 201-500 Employees
Used

Weekly

for

6-12 months

Review Source
---
Solides Produkt von ITEXIA sehr nette und kompetente Mitarbeiter
Wir konnten die gesamte Inventur problemlos durchführen.
Pros
Sie ist einfach und verständlich aufgebaut.
Cons
Im Dashboard fehlen noch schöne Grafiken über die einzelnen Inventargüter.
Industry: Education Management
Company size: 501-1,000 Employees
Used

Daily

for

6-12 months

Review Source
---
Perfekte Inventarisierungssoftware
Inventarisierung all unserer IT Assets
Pros
wir haben lange nach einer möglichen Inventarisierungssoftware gesucht. Nach langer Suche und verschiedenen Tests sind wir auf Itexia gestossen; Vom Start an, waren wir von der Software begeistert; wir können die Software detailiert an unsere Bedürfnisse anpassen, von frei zu definierenden Feldern bis hin zu den Reports. Die Software ist intuitiv bedienbar und innerhalb kürzester Zeit einsetzbar und nutzbar. Hier wurden wir auch top vom Itexia Team unterstützt. Die Inventarisierung erfolgt über eine App am Smartphone oder über die Weboberfläche, wobei die APP mMn. zu bevorzugen ist.
Cons
bis jetzt haben wir keine Nachteile gefunden; es läuft so, wie wir uns das vorstellen und voorgestellt ahben