About eFileCabinet
eFileCabinet is a document management solution focused on helping businesses of any size to improve their profitability and productivity by reducing paper within their operations and streamlining their work processes. eFileCabinet's premier software, Rubex, is accessible via web browser and a desktop app. Offering both cloud and on-premise platforms, eFileCabinet is document management software that provides businesses with intelligent organization and automation tools. Workflow, OCR, secure file-sharing, email importing, and eSignature requests, are all available on one platform. With document management, businesses can overhaul their traditional document processes which will help them reduce overhead, simplify compliance, and eliminate inefficient tasks involved in business operation— all with the goal of allowing those businesses to focus on the work that really matters.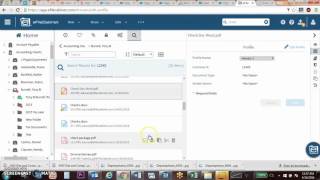 eFileCabinet does not have a free version but does offer a free trial. eFileCabinet paid version starts at US$1,200.00/year.
Starting Price:
US$1,200.00/year
Alternatives to eFileCabinet
eFileCabinet Reviews for UK Users
Industry: Law Practice
Company size: 2-10 Employees
Used

Daily

for

1-5 months

Review Source
---
Better Than Others With Room for Improvement
eFileCabinet support has been quick and resolved any questions/concerns that I have. The price is higher than others but you get more features than lower-priced programs.
Pros
The ability to customize sharing so much; granting access without individual having to have separate account for program; preview pane; branding ability; multiple viewing panes at once; audit trail easily accessible; folder templates; e-signature in program
Cons
Invitation email 24 hour timeout; inability to select multiple files that aren't listed consecutively; drop down for filing is visually a little difficult to differentiate between; works better in certain internet browsers; Gmail will not allow as third-party app because level of security not high enough (for pulling in emails)
Response from

eFileCabinet

It's great to learn more about how eFileCabinet is helpful for your business, thank you so much for taking the time to leave us with this review and your feedback!

Replied 10/09/2020
Industry: Financial Services
Company size: 2-10 Employees
Used

Daily

for

2+ years

Review Source
---
eFileCabinet
Fantastic. Simple. Not afraid to use it as it is not overwhelming and almost no learning curve.
Pros
A platform that provides an intuitive, simple and common filing system that mimics what one would utilize if using paper. There is very little set-up and also provides the ability to accommodate/configure each company's needs. The accessible customer service is based in USA and everyone has been extremely helpful without hold times. They will train you more than once, if needed, as it is a very simple means of going paperless. They are not trying to reinvent the wheel in filing but are continuously upgrading and improving its capabilities.
Cons
The only thing for me, since my application is cloud based and not desktop, is integration with other vendors. On the other hand, i am not sure if I would ever need to integrate with my other vendors.
Response from

eFileCabinet

It's awesome to learn more about you use eFileCabinet and that you love the customer service and support. We're grateful for you as a customer and we really appreciate your time to leave this review!

Replied 10/09/2020
Industry: Financial Services
Company size: 11-50 Employees
Used

Daily

for

1+ year

Review Source
---
eFile User
eFile has been a great solution for our company and the customer support has been very helpful in overcoming any issues we encounter.
Pros
This software eliminates our need for using a physical file storage system that takes up a lot of space.
Cons
Using the same username but switching computers does not really work and has to be reset up. The template should transfer over for Zonal from one computer to the next when using the same login.
Industry: Insurance
Company size: 11-50 Employees
Used

Daily

for

6-12 months

Review Source
---
eFile didn't meet our business goals
Our overall experience with eFileCabinet was not good. Software didn't meet our goals and the experience we had with Customer Support was horrible. They were really nice via chat at first though. They helped us when we had a small technical problem. But in terms of requesting a feature and clarifying what eFile can and can't do was horrible. They tried to confused us multiple times, but at the end they had to agree that eFile couldn't do what we needed. And in terms of Retention - how could you allow users with edit permission to be able to change a document retention? In summary, the mayor problem we encountered was that the EDIT permission from VOEDA is really broad.
As a future recommendation please try to have better communication with your clients. If eFile can't do what we need say so! If the feature request can't be done say so! Don't let the client get all confused and making them wait and wait and wait. At the end, as a result, your client will leave.
Pros
It's simple to install, easy to understand and work with.
Cons
Before starting on what we didn't like, we would like to point out that we are using the on-prem software (not the online version). Stating that, the software didn't meet our business goals. We needed a software that allowed us to assign security permissions to users, and even though eFile has some predefined ones, they didn't had what we were looking for even though they said it did when selling us the product.
For example, we needed users to be able to download, edit the document inside and upload new documents inside drawers and/or folders. But we didn't want them to have permission to also edit/change the drawer/folder name and/or add subfolders. That would mean that my users can change ALL my folder structure. We were in talk with Customer Support and they asked us to create a feature request which we did. After that they promised us they would send a schedule -which they never did-. We kept writing to them and nothing. We also called and nothing. They didn't follow up with the request as promised.
The software didn't also meet our requirement on retention which is really important for our business. Note: Any user can edit the retention of an item if they have "edit permission". We also requested for the retention settings to be only controlled by a system administrator. Nothing. No response. We are still waiting after two months on the "schedule" they were supposed to send us and nothing. We wrote to them a lot and still no response.
Industry: Higher Education
Company size: 11-50 Employees
Used

Monthly

for

6-12 months

Review Source
---
Alfresco Enterprise Alternative
We needed a modern, robust, cloud-based document management system for long term digital archiving. Overall eFileCabinet has served our needs very well.
Pros
The conversion team saved us from an aging system that we needed to abandon. The Cloud Server being the same cost as an on premises server was a great incentive for choosing eFileCabinet. The Cabinet -> Folder structure is easy to understand and navigate. The ability to share large files with users outside of our organization easily has also been a boon.
Cons
Search is powerful, but due to the Alfresco Enterprise system we imported from relying on metadata tags for search, very particular steps are needed to use the search in eFileCabinet's Rubex properly. It's confusing for our core users sometimes. I'm not sure if I would feel differently about Rubex's search functions had we started our digital archive in Rubex, but as it is this is a function that is mildly frustrating.