About Zoho Invoice
Zoho Invoice is a 100% free cloud-based invoicing solution designed to help small businesses with invoicing, tracking expenses and, accepting online payments.Key features include project billing, time tracking, reporting, customizable templates and, a client portaI. Teams using Zoho Invoice can track estimates, convert them to invoices, and send reminders to clients to complete their outstanding payments. Additionally, users can create tasks, collect advance payments for projects, and keep track of their invoice history. It is available in 17 languages: Arabic, Bahasa Indonesia, Bulgarian, Croatian, Dutch, English, French, German, Italian, Japanese, Korean, Chinese (Simplified), Portuguese, Spanish, Swedish, Thai, and Vietnamese. It allows integration with various third-party applications such as Slack, Office 365, Google Workspace, and more. Zoho Invoice caters to the needs of every size of business, especially small businesses. It provides an efficient invoicing solution for generating and sending professional invoices within a matter of minutes. Benefits of using Zoho Invoice: 1. Managing customers and item information 2. Seamless invoicing 3. Time tracking 4. Payment collection 5. Expense tracking 6. Client portal 7. Reports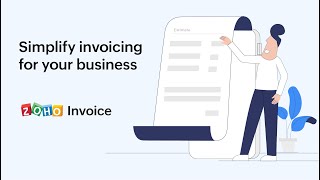 Zoho Invoice has a free version and does not offer a free trial. Zoho Invoice paid version starts at N/A.
Alternatives to Zoho Invoice
Zoho Invoice Reviews for UK Users
Industry: Marketing & Advertising
Company size: Self Employed
Used

Weekly

for

1+ year

Review Source
---
Great value
Overall I love Zoho Invoice simply because of how effectively they automate the process of sending invoices and collecting payment. It saves me so much time every month and is worth every penny.
Pros
I needed an invoicing system that could send recurring invoices. I was spending too much time every month manually creating invoices, and would often send them out late, which meant I'd get paid late. Of all the options I researched (there were a lot) Zoho had the most features for the lowest price. Set up was easy, and they keep adding new features that are included with my subscription. They even have automatic reminder emails you can have sent to clients who are late in paying. This happens so often in my industry, that this feature has actually helped me collect my payments faster, without me having to spend time trying to get paid.
I also love that as my business grows, Zoho has so many other products that I could add to my Zoho dashboard. I've also noticed that most of the other 3rd party programs I use have options to connect to Zoho.
Cons
Their customer support is a bit slow. There's a new feature they've rolled out that I'd like to use, but there's not much documentation about it. I reached out a few days ago for help and still haven't heard back. It would be nice if step by step instructions were easy to find for their new features.
Reasons for Switching to Zoho Invoice
Zoho offered the cheapest price for the feature of sending recurring invoices. After using this program, I've seen there are many other handy features that come along with their low rate. Because it also connects to so many 3rd party programs, I don't foresee switching to another company for quite some time.
Response from

Zoho

Hi Julieanne,

Thank you for taking the time to review us! We're glad to hear you were able to streamline your invoicing and payment collection processes.

Regarding your feedback on the documentation, it would be very helpful if you could share more details. Please feel free to drop an email to [email protected]

Regards,
Harikrishna
The Zoho Invoice Team

Replied 29/02/2020
Industry: Hospital & Health Care
Company size: 5,001-10,000 Employees
Used

Daily

for

1+ year

Review Source
---
Zoho Invoice has been a wonderful and superb experience for me
So that I can capture clients at the exact time they are ready to on-board, Zoho's phone app and website interface flawlessly, allowing me to produce booking deposit invoices while on the go. Once I've set up all of my templates, sending an invoice to a new client through email or SMS is as simple as a few clicks.
Pros
Invoicing and bookkeeping in a small business are a snap with Zoho. Because I can simply compile and print out all of my billing and revenue information from the year, I no longer have to worry about tax season. If you're in the market for a straightforward and easy-to-use invoicing system, I highly suggest Zoho. We had a few difficulties with help early on, but they've been fixed and the assistance has been excellent since.
Cons
When premium plans were removed, a free forever plan was introduced, however Zoho branding was applied to the papers, which was a downfall. Zoho Invoice could charge a modest price to remove branding or a note that users may produce free invoices like this.
Industry: Printing
Company size: 2-10 Employees
Used

Daily

for

6-12 months

Review Source
---
Wish it had more features
Pros
It was fantastic for the price. You have a full suite of features for a fraction of what something like Freshbooks or Quickbooks cost. While it had significant limitations, the features are far and above what you would expect for the monthly fee
Cons
My review my be a little outdated as I have switched over to Quickbooks paired with an industry specific invoicing system. The main issue I had was that it was missing a strong estimation software that they had implemented in their CRM module. That baffled me as the CRM had a more customizable and robust system than their actual invoicing system did. What's more, it didn't translate over as cleanly as I would have wanted. This might have been fixed by now but the disparity between their different modules can be problematic.
Industry: Entertainment
Company size: Self Employed
Used

Daily

for

2+ years

Review Source
---
The Only Solution That Covers All My Small Business Invoicing and Accounting Needs
Zoho is nearly-perfect for small-business invoicing and accounting. I no longer worry about tax season, as I can easily create and print out all my billing and income info from the year. I can quickly know whether a client has paid or not, and it all transaltes instantly and perfectly to iPhone.
Pros
Zoho seamlessly integrates its iPhone app with its website so I can immediately create booking deposit invoices while I'm on the road—immediately capturing clients at that crucial moment when they are ready to on-board. Once all my templates are set up, it's just a couple clicks to send a new client an invoice via email or even text.
Cons
Zoho feels very "enterprise." Most of its preset categories and templates assume you are a giant corporation. Fiddling with billing and accounting headers and categories can be daunting and slightly confusing.
Industry: Computer Software
Company size: 2-10 Employees
Used

Weekly

for

1+ year

Review Source
---
That's my choice for invoice software
The software is awesome. No complains. I really like the UI and the templating system is the best I've used. I've tried many similar software but none had all those options that lets you customise in depth your invoice layout, fields and overall appearance. Try it out.. the base plan is free!
Pros
I tried many invoicing systems but none had the ease and depth needed to customise and translate all the fields needed to be compliant to my country tax and formal rules. The templating system is awesome, the way u can set automatic invoicing will save you a lot of time. This is just the best invoice software I've used and I'm still sticking with it.
Cons
The only drawback is that you can't delete customers if you have an invoice regarding them. This can limit your free trial or your free plan. If you always work with the same customers it's fine.. if you always have new and many customers this is something to think about first.
Reasons for Choosing Zoho Invoice
Whmcs takes too much effort for a little company
Reasons for Switching to Zoho Invoice
I choose Zoho because I could customise the invoice template and fields to be easy to use and compliant to my country laws. All the other solutions were not customisable enough to meet the Italian tax regulations standards but might work well in other coutries.