About HotSchedules
HotSchedules is an online restaurant management platform that delivers scheduling, workforce, talent and inventory management tools. The solution offers tools that enable restaurant owners to recruit workforce, develop and share training courses with the staff, track business productivity and manage day-to-day restaurant operations. HotSchedules enables businesses to develop learning content for employees. HotSchedules is designed to accommodate all styles of content type, including video tutorials, documents, audio presentations and more. The scheduling feature enables administrators and managers to plan shifts and monitor labor attendance. HotSchedules logbook records employees' in & out time, daily notes, shift summary and restaurant checklists in one central place. HotSchedules also includes social recruiting, e-learning, labor management, BI, inventory, print and digital logbooks as well as various other applications built on their self-publishing API platform. HotSchedules is mobile-ready and can be accessed on iPhones, iPads, Android and Blackberry devices by downloading HotSchedules native mobile app available on the respective app stores.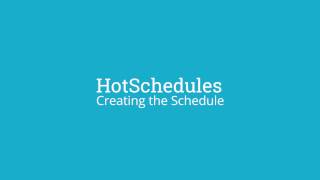 HotSchedules does not have a free version.
Alternatives to HotSchedules
HotSchedules Reviews for UK Users
Industry: Food & Beverages
Company size: 5,001-10,000 Employees
Used

Daily

for

2+ years

Review Source
---
Your Schedule On The Go!
Wonderful! I can easily access using the app from my phone a comprehensive view of todays roster and more! Helping me as a director plan a shift before I even get to work. Especially important to plan in my business because surprises arise frequently and daily. I can also easily request time off needed through the app, call, text, or even email my staff if needed to. Hot Schedules saves me and my company time, money, and helps our business to stay productive!
Pros
I really enjoy the convenience of being able to view your work schedule remotely and anywhere for that matter! Set up an email or a Gmail account and it's delivered right to your inbox! Gone are the days of having to call your employer or having to drive to your place of employment to view it on paper. "Your" time is valuable and let's be honest, none of us want to go to work on our days off for any reason!
Cons
I really and truthfully speaking have nothing negative to include with Hot Schedules. It's been a great software addition to our store and team! If someone did tell me that I had to pick out one feature that I don't care for, I guess it'd be the "How was your shift?" feature that pops up when logging on. That said, it's such a minor dislike and isn't really worth mentioning.
Industry: Hospitality
Company size: 201-500 Employees
Used

Daily

for

2+ years

Review Source
---
Easy
Overall it's a great scheduling platform for all. Very easy to use and it's great for communicating with employees as well as logging disciplinary issues.
Pros
The best thing about this product is the ease of use. It's easy for managers and also for our employees. They give you step by step instructions on how to first create your account and utilization from there moving forward.
Cons
The worst thing about this product is customer service. It can be very hard to get ahold of someone and it takes days if not weeks for service tickets to be received.
Industry: Utilities
Company size: 2-10 Employees
Used

Weekly

for

1-5 months

Review Source
---
The Problem with Hotschedules
Pros
Active and responsive updates that ensure the user is aware of any changes and modifications in their scheduling, an overall problem free experience with very few bugs and glitches.
Cons
There is no consistency between the various ports of the apps, except for the lackluster user interface. The constant log-outs is annoying even though it is a security measure and most importantly the fact employees have to pay to see their schedule in a usable manner.
Industry: Food Production
Company size: 201-500 Employees
Used

Daily

for

2+ years

Review Source
---
The Best App In Its Category
I enjoy using Hotschedules, its very beneficial especially to businesses with with more than a couple employees.
Pros
Hotschedules is simple, I simply log onto the app and view what I need to look at! For me this is all I need. A great majority of apps will make you jump through irritating loops just to see a schedule or request time off Hotschedules doesn't. Please, if you are a manager who does any type of scheduling for a small or big business. I recommend Hotschedules you will not be disappointed!
Cons
Sense I've been using Ho schedules my only complaint has is being signed out randomly. I think that is due too having an apple iPhone. I'm not sure if android or other devices have the same issues.
Industry: Restaurants
Company size: 201-500 Employees
Used

Daily

for

2+ years

Review Source
---
Hotschedules for restaurants
Great software. Not sure about the business model, we eventually paid more for a different software that has better customer service for issues.
Pros
Hotschedules was our go-to scheduling software for years in multiple restaurants, even as many more options came on the market. It was easy to use as a manager/scheduler & also for our staff
Cons
Hotschedules customer service was not quick to address issues but The price kept going up even as fixes weren't betting put in place.
Reasons for Switching to HotSchedules
I didn't