About Lusha
Lusha is a lead generation platform, which helps sales representatives, recruitment managers and marketers in businesses of all sizes find contact details of prospects to reach out and generate leads. The software allows managers to collect contact details from social media handles, B2B websites, and email inboxes as well as create lists and export them to CRM systems. Lusha lets administrators automatically update contacts in the Salesforce database, generate lead scores, and analyze previous deals to understand sales patterns. Additionally, recruiters can utilize the platform to find personal contact numbers to connect with prospects. This solution offers an application programming interface (API), which lets businesses modify the system and integrate it with several third-party applications such as HubSpot, Salesforce, Zapier, Pipedrive, Outreach, SalesLoft, and Zoho. Lusha is available on a monthly subscription basis. Support is available via FAQs, a knowledgebase, and other online measures.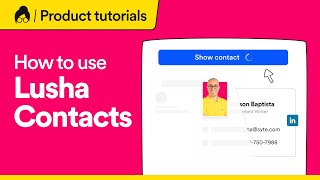 Lusha has a free version and offers a free trial. Lusha paid version starts at US$99.00/month.
Starting Price:
US$99.00/month
Pricing Details:
Lusha is offered across several pricing plans, outlined below. Contacts- Starter: Available for free Professional: $99 per user per month Premium: $199 per user per month Enterprise: Custom
Lusha Reviews for UK Users
Industry: Marketing & Advertising
Company size: 201-500 Employees
Used

Daily

for

1+ year

Review Source
---
Fast & Accurate Prospecting at the Touch of a Button
I have been using Lusha for about 1.5 years and I have never once run into an issue using this software. Furthermore, Lusha complies with the standards set by GDPR and CCPA, which takes a lot of stress off of my shoulders (as I have noticed many of the alternatives do not offer this option).
Pros
Lusha is incredibly easy to use and integrates perfectly with our companies Salesforce. The ability to quickly gather accurate and tested contact information ensures that our sales team always has the highest quality contacts available. Furthermore, Lusha customer support makes it easy to troubleshoot any issues you may come across.
Cons
I believe that it would be beneficial for Lusha to be able to pull geographical locations from LinkedIn profiles in addition to emails and phone numbers. Perhaps having a checkbox that allows users to pick and choose what data they would like to pull can be useful.
Alternatives Considered
and
Snov.io
Reasons for Switching to Lusha
We spent about 3 months trying all of our options before finally choosing to go with Lusha. During this process, I took a list of 50 companies, and began finding contacts for them. After comparing my results, I found that Lusha returned the largest quantity of WORKING emails. Some of the alternatives returned emails that did not actually exist, possibly due to faulty coding with the software. Therefore, it made sense for us to go with Lusha, since it seemed that we would get the most ROI on this product. A year and a half later we have renewed our yearly contract with Lusha, and have no inclination to change products anytime soon.
Industry: Online Media
Company size: 11-50 Employees
Used

Weekly

for

6-12 months

Review Source
---
Expensive, but it solves the problem like no other
Great experience and totally recommended.
Pros
Lusha's slogan should be "data you can trust". While other tools in the market just "guess" your prospect email, Lusha gets it right. I don't know details about their database, but the accuracy of the e-mails and phone numbers provided are incredible high. Other tools in the market just make a guess like "[email protected]", try to validate it and that's all. Most of them can't even give phone numbers. I have tested over 15 tools (Hunter, Snov, Findthatlead, Skrapp and etc) and I can assure that Lusha is the most accurate.
Cons
I find it very pricey. You can buy larger credit packs and get a discount, but it's still way more expensive than competitors.
Reasons for Choosing Lusha
I could'nt select more options, but I tested Skrapp, Snov, Hunter, Findthatlead and a few more. I switched because Lusha has the best accuracy on the data provided.
Reasons for Switching to Lusha
Lusha has the best accuracy on the data provided.
Industry: Publishing
Company size: 11-50 Employees
Used

Weekly

for

6-12 months

Review Source
---
Gives sale's superpower to your browser
We use the software to avoid draining our client's pipeline. The extension really helped us to do that.
Pros
The Chrome Extension is the most feature I liked in this software.
Cons
The system didn't always give correct call numbers, and sometimes fails to get the numbers in the first place.
Reasons for Choosing Lusha
Clients demand
Industry: Computer Software
Company size: 501-1,000 Employees
Used

Daily

for

1-5 months

Review Source
---
Succeed with Lusha
Its a one stop shop for getting authentic data of key personas who are difficult to reach for sales guys. <Most of the time their mobile numbers and email ids are valid and it helps us connect first time right personas. Saves lot of effort and time for sales.
Pros
Product integration with Linkedin, data authenticity and ease of use are the best part of Lusha
Cons
Still to findany limitation. Sometimes the data is incorrect but its good that we have option to inform about the same.
Reasons for Choosing Lusha
Authenticity of data was major problem at zoom info. Very cumbersome to use and limited integration facility
Industry: Information Technology & Services
Company size: 2-10 Employees
Used

Daily

for

1+ year

Review Source
---
Need Contact Details? Get Lusha?
Lusha is great for finding contact details for key people in time-critical situations and for building biz dev campaigns. Not perfect but best we've used; really useful tool.
Pros
Lusha is pretty well known amongst the sourcing community as one of the best tools for getting personal contact details - email address and phone numbers - from social media profiles. The chrome plug-in works well. Most users will be using this with LinkedIn. When you visit a profile, it tries to find phone number and email addresses and usually it comes up trumps. This often gives you personal contact details allowing you to bypass the corporate gatekeepers - that's why this is popular with recruiters. The LinkedIn Inmail system can be hit and miss (lots of LinkedIn users don't check or don't respond) and when you consider that Lusha could replace a premium or recruiter version of LinkedIn, it is good value if you are a sourcer, recruiter or biz dev professional.
As you can turn off the monthly subscriptions this would be a good option for campaigns targetting specific verticals for example if you don't have an ongoing requirement.
Cons
The software isn't perfect and it does get it wrong sometimes, but it is currently the best at what it does. While there's not much to dislike about Lusha, the problem with apps like these is that they invariably get either bought by LinkedIn/Microsoft and killed or just blocked when they become too popular. You may also be running into data privacy issues by using apps like this - check the legislation in your jurisdiction and you might want to run this past the Data Protection Officer (DPO) if you have one.