About Canva
Canva is a cloud-based graphic design tool used to create on-brand marketing content, sales presentations, training videos and more by companies of all sizes. This solution includes features such as drag-and-drop design and photo editing with access to custom fonts, frames, shapes, grids, and icons. Search our stock library to find what you need, with thousands of pre-licensed photos, videos, illustrations, soundtracks and more. Canva's pre-built templates include logos, posters, presentations, infographics, social media posts, newsletters, menus, plus thousands more. Teams can create data visualizations such as custom charts and diagrams using internal data. Once visual projects are completed, teams can choose to publish online, share with others, or download. Visuals can also be embedded directly into presentations. Pricing for Canva is per user, per month, and billed yearly, or you can start with the free version.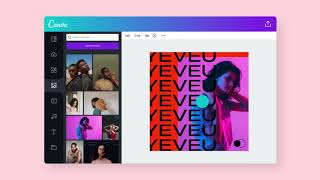 Canva has a free version and offers a free trial. Canva paid version starts at US$12.99/month.
Starting Price:
US$12.99/month
Canva Reviews for UK Users
Industry: Writing & Editing
Company size: 2-10 Employees
Used

Weekly

for

2+ years

Review Source
---
Would You Recommend? Too Late, Already Have.
I make graphics for our companies and occasionally clients, in a whole variety of capacities. I have used Canva to create newsletter graphics, social media posts for Twitter, Facebook, Pintrest, Tumblr, Instagram, and Reddit, brochures for products or services, infographics for conferences, and more.
Pros
I have been using Canva since I began teaching myself to make graphics over two years ago. It has served me well in both simple projects (like graphics for social media) or full-on gif animations. They continually add new features and content and are always revamping the suggestions for "fresh" ideas. It's also super easy to share your project to other people or places, and you have quite a few download options for your files. And it is SUPER easy to use, the user interface is very intuitive and if you have questions their docs are great!
Cons
I have very few complaints, and the ones I have are pretty niche issues. Systematically I don't see issues at all! But sometimes it can be hard to format a picture correctly due to their "snapping" feature that snaps whatever element you're using to the nearest part of the picture the program "thinks" you want to use. For example, if you try and move a circle to a centimeter away from the middle of the graphic you're creating, it will automatically center itself and won't let you un-center it without an enormous amount of fuss. But this is minor and doesn't really happen often for me!
Industry: Real Estate
Company size: 2-10 Employees
Used

Weekly

for

2+ years

Review Source
---
User Friendly Design Software For Individuals And Small Businesses
Canva is user-friendly and affordable. It has made creating designs easy and fast. Designing marketing materials for both our offline and online audiences now costs less and doesn't consume much time.
The pros for this product outweigh the cons, I would therefore recommend this software to anyone who isn't an expert on graphic design and still needs to create appealing and professional-looking materials without spending too much time or money.
It is ideal for small businesses.
Pros
Canva is affordable and easy to use which makes it ideal for most of our marketing personnel who have little graphic design experience. We do a lot of brochures, flyers, create ads, and social media graphics for our properties. Creating content for the various social media platforms has never been easier.
It has thousands of high-quality templates to use in designs for almost any occasion which are easy to customize. It also allows one to upload their own images to use on the platform.
The platform supports various file formats which makes it easy to work with for the team.
It stores the designs for future use and we can download them into different devices to use elsewhere, for instance, post as a status or part of the catalog on the Whatsapp platform.
The availability of tutorials and designing courses makes it easy to use and learn new things.
The availability of a mobile version of the software is a huge plus. Creating designs while on the move is amazing. Our team doesn't have to wait to get back to the office to create a poster or social media post for that amazing property that they want to take online immediately.
Cons
The software has limited photo editing functions and a lot of features like resizing images are locked in the premium version. It is also not flexible enough for an expert designer who wishes to create designs from scratch.
Whereas there are thousands of templates to use on the platform, a lot of designs lack uniqueness as popular designs are used by a lot of businesses.
They can do better on the customer service. The ease of reaching the support team and the response time to concerns raised should be looked into.
Industry: Marketing & Advertising
Company size: 2-10 Employees
Used

Other

for

2+ years

Review Source
---
Canva is Great for Social Media
It's not bad for someone with no design experience as long as they are willing to pay more for printing. For the higher cost of printing you could pay a professional such as myself to design for you and print at a lower cost and higher quality. The application is bad for the overall marketing industry because it has lowered the quality standard and impact of advertisements being created by business owners who think they understand marketing, design and printing. I recently said to one of my clients who owns a high end auto detailing business and tried to create some marketing materials on his own, "I don't now how to properly wax and detail my vehicle. I would probably ruin the paint job somehow if I were to do it myself. That's why I hire a professional. I wouldn't expect you to be able to handle a design, print and marketing job either because that's not what you do." In short, stick to what you know and leave the rest to professionals. It will cost you less in the long run.
Pros
It's very easy to use and offers a ton of design content for free. You don't necessarily need to search outside of Canva for images but you can if you want. It's great for designing simple social banners or marketing materials quickly but there is a catch. They are trying to sell you printing services and their pricing is not competitive with quality printers.
Cons
I recommend Canva to clients who need to create social media marketing images. I have worked with clients who need me to print postcards, flyers or brochures that they designed on Canva and there are issues. Canva is trying to sell printing services. Their design templates are sized and setup for the printer companies they outsource to. If you design on Canva and download the files to send to a professional printer then those files are not setup correctly and require alterations to be printed. That's if there is room for alterations, but not all designs will allow for easy alteration so therefore the customer is forced to print on Canva at higher costs.
Industry: Marketing & Advertising
Company size: 11-50 Employees
Used

Daily

for

1+ year

Review Source
---
Great product for social media marketing!
Great experience! I love the various layouts available for business to play around with in order to create the best layout! Five stars, hands down!
Pros
This product is great for customizing social media marketing strategies. It's a platform that allows you to be as creative as you want. There are great layouts as well as options to create the layouts you would want. Great for beginners who need assistance with layout ideas. Great customization options!
Cons
There wasn't anything particular that I found least exciting. Overall Canva is great. No dissatisfaction thus far.
Industry: Writing & Editing
Company size: 2-10 Employees
Used

Daily

for

6-12 months

Review Source
---
A Great Design Tool
My overall experience with canva is pretty much satisfactory. Not every design tool will give you the opportunity to work in the cloud with so many design options. Besides, it is quite easy to use and user-friendly. I would happily like to recommend it to others.
Pros
Canva is a great design tool. Even if you are a beginner level designer or don't have much design skill, canva has everything to help you out. There are many templates which are ready to use and you just need to improve it by using your creativity. As I work for my clients as a social media manager, I need a lot of images to post on their social media pages. In that case, it would have been a tough job for me if I didn't have canva. Now, I can make images of specific sizes to post on Facebook, Instagram or even on Twitter. Furthermore, it has a great dashboard which is so much easier to use. Moreover, canva has a great mobile application. On top of that, you can save your creation in the cloud and download it in your desired formats as well.
Cons
There are some rooms that can be improved further. They should improve their resource section. The photo library, elements, and other resources should be upgraded. Other than that, canva is a great tool for designers.