About SugarSync
SugarSync is file sharing and backup management software that helps businesses of all sizes securely store, view, edit and manage documents, images and audio/video files. The platform includes a centralized dashboard, which lets managers add users, track account activities and manage storage or access rights. SugarSync's backup management functionality, allows administrators to schedule automated backups on a daily, monthly, quarterly or annual basis and restore data to a specific date. It offers a host of features such as online editing, remote device wipe, disaster recovery and more. Additionally, organizations can share files and folders by posting links on Facebook, Twitter, IM and blogs or collaborate on projects by providing role-based permissions to view or edit documents. SugarSync uses AES 256-bit encryption to ensure secure financial transactions and upload or download of data. Pricing includes monthly/annual subscriptions and support is extended via email, FAQs and other online measures.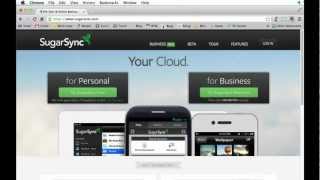 SugarSync has a free version and offers a free trial. SugarSync paid version starts at US$4.99/month.
Starting Price:
US$4.99/month
Alternatives to SugarSync
SugarSync Reviews for UK Users
Industry: Computer Software
Company size: 11-50 Employees
Used

Daily

for

2+ years

Review Source
---
Great file sharing solution
Overall, this is a wonderful solution for SMBs to efficiently share files without investing in a complicated enterprise solution that requires IT setup and maintenance.
Pros
The best thing about this software is that I can download the shared folder and sync locally so I don't HAVE to use the web app if I don't want to. I can drag and drop files and sub folders on my desktop and still sync with the cloud.
Cons
One team member in particular can't delete anything, files and folders she deletes keeps reappearing. We think this is because the version we have is older and not supported anymore, honestly. We have it as a legacy and they don't sell it anymore. I don't believe the newer versions have this issue.
Industry: Utilities
Company size: 51-200 Employees
Used

Daily

for

2+ years

Review Source
---
Easy to use with comparable price point
Pros
App was easy to use and teach employees to use, implementation was smooth transition from previous app. Integration with other apps worked better than other apps used by company.
Cons
Pricing for small business use is a bit too high.
Industry: Internet
Company size: 2-10 Employees
Used

Daily

for

2+ years

Review Source
---
This Software Has Stopped Working with the Latest MacOS
It had served me well for a long time, although things always seemed a little on the verge of breaking down. Usually it didn't. Now it doesn't work at all. The customer support team are trying and are nice, but they are just being fed lines from their developers and can't offer any information about when an update will be available. What they are relaying indicates that the problem was on the verge of being fixed, but that line has continued to be served up.
Pros
I liked that you can select the folders that you want to sync, back when the software used to work. It used to be a decent product and serve a role in the syncing world that other software didn't.
Cons
It occasionally would get buggy and there would be a need a few times a year to get on the phone with customer service and resolve new issues. But most of all, it is completely useless to me now because it no longer works with the latest MacOS. Mac pushes their users to update frequently to the latest, safest OS. There is no way anyone should not upgrade because they want to keep using SugarSync.
Used

Daily

for

2+ years

Review Source
---
SugarSync offers the folder specific syncing that very few others do.
Pros
Pretty much what it claims to do is what I like best about it. It's like being asked "What do you like best about a back scratcher?" It scratches my back! This software syncs my files and it does do allowing me to select the folders I want, which allows me to keep my computers set up in the folder structure that I want. (Most others, like Dropbox, which I also like and use, but for different reasons , make you use their folder.)
Cons
Once in a while there is a hiccup and the sync stops working properly for a certain folder. That can be a little nerve wracking to fix, but for the most part, it's a time saver. I also don't like that they went from freemium to pay only at one point; it's not that it wasn't worth it, but it always feels a little sneaky when you become reliant on something and then you're almost "forced" to keep going with it.
Industry: Professional Training & Coaching
Company size: 2-10 Employees
Used

Weekly

for

2+ years

Review Source
---
Great features to sync and backup files in the cloud
Overall, I love using this software to back up and share my files with others. It was easy to use and has features that other competitors didn't have.
Pros
Sugarsync is easy to use and configure so it's accessible on all devices. Love how you can choose specific folders to sync and backup.
Cons
Over the years the price of the plans have gone up compare to other competitors like Dropbox and Google Drive.